annanotbob2's Diaryland Diary
-----------------------------------------------------------------------------------------
Ten more
1. Still don't know about the house - the vendor is quite ill and not very accessible. I am visualising us all there, in the house and garden, hanging out. The front faces west - it's not very exciting, but there's quite a bit of drive, maybe a good place for a bench and a cup of tea and the sunset of an evening. Maybe Radio 4 drifting out the window. A wee pipe. I'm drawing it to me, that kind of life - a house my family can be in together. Tsk, my silly mind started calling it, like a puppy, "Here, housey, come on, over here, there's a good housey." Not sure how that works.
2. I'm badly missing ED, like a knife twisted in my chest. Going up there at the weekend.
3. The oven's fucked. Not dead, but temperamental - it failed to cook a potato and an apricot crumble after being on for years yesterday. I should tell the landlord but the flat is filthy and messy and for now I'd rather not. Had fish and chips yesterday and a burger tonight. This cannot go on, obviously, but I'm tired.
4. May have sorted out the missing chunk of my pension lump sum by crying on the phone at the person in Human Resources at the County Council. It's only taken me seven months, but I am pushing at the limits of my overdraft facility (now extended by £500 at god knows what cost) and I need this money now.
5. I'm knitting a teddy bear (from a very simple pattern) to give to someone who has dementia, as part of a thing on facebook and twitter. I see people with dolls and soft toys at ED's care home - it's a great comfort to lose yourself in dreams of rocking a baby, especially one that isn't crying.
6. I went for a walk today with Sis's grand-daughter, age two and a half, and the poor wee dog (Nephew's French bulldog). He is a good boy really, but hasn't been taken out enough and wanted to be in the middle all the time, between me and the baby. She's a good walker, wants to hold my hand all the time which is good for going round town, though it would be better without a dog tangling us up in a lead. It was more of a struggle than a pleasure, but we made it to the coffee shop and on to the churchyard where we enjoyed the traditional pastime of sitting on a bench shouting at seagulls: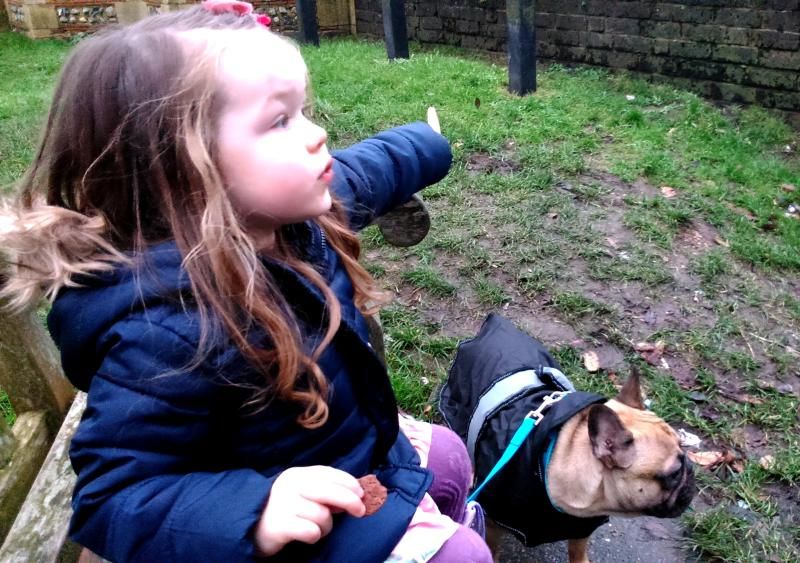 7. Fuck The Sun (the tabloid, not the sun), and fuck Rupert Murdoch.
8. "Holding onto her sanity with both hands." I read that somewhere and it resonated. Wish I could remember where. That's what I'm doing though. Holding tight.
9. Thank you for being there and sorry I'm not good at responding/acknowledging. See 8.
10. And tomorrow is another day.
I am grateful for: my sister; and nieces and nephew; warm flat on a cold night; the NHS; bedtime now.
xxxxx
12:36 a.m. - 22.01.15

-----------------------------------------------------------------------------------------