annanotbob2's Diaryland Diary
-----------------------------------------------------------------------------------------
Isn't she lovely
Up at ED's, half watching more Jubilee bollocks. Live concert from outside Buckingham Palace. They didn't show the Queen's face when Kylie in her tiny hot pants was giving it 'Can't get you out of my head,' which was a shame.
On the one hand, being queen for sixty years is a big achievement and in these times of austerity I don't want to be a total killjoy, but also, fuck off.
Anyway. I don't want to dwell on it, but feel I must record that ED was at a new low when I arrived here on Saturday. She was completely detached, far away inside her own head, blank eyed and slack-jawed, utterly terrifying and devastating. It was GS's birthday, with YD in charge of festivities - barbecue in the rain, under an awning, all the kids off the park swarming about. No wonder ED was finding it too much. YD is a marvel though - she kept the kids engaged and happy for going on three hours. My favourite game involved a pile of small wrapped presents and two packs of cards. One pack was dealt out amongst the kids. YD then turned over cards one at a time and whoever held that card could take a present from the pile (but not open it). When the presents ran out, whoever had the card could take any present they liked from someone else's pile. This all provoked more hilarity than expected, somehow, as things ebbed and flowed fr4om one person to another. Fabulous. They all turned out to be stationery - pencil sharpeners and the like, all good.
So, I was frozen up in shock at ED, but I have gathered my wits about me and she has come back to us a bit. SIL is being brilliant - something has changed in him recently. Maybe the attack has made him realise what he cares about. I don't know what caused it but we're all happy to find that it's ED.
There's going to be a lot of medical calls this week. It's become very complicated as she's currently got several different things going on as well as the MS. At the moment she's coming off all her meds - taken the last anti-depressant tonight. Terrible, but there you go.
In fabulous contrast we have a brand new member of the Familia Notbob, Baby F, born yesterday to my darling niece L, making my sister a granny and me a great aunt: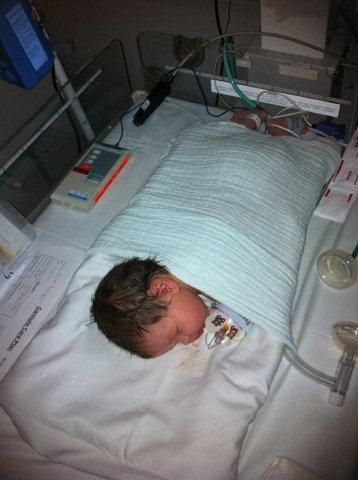 I find myself incredibly moved by this photo - I keep looking and looking at it, amazed at this new little person come amongst us. I can't wait to get home and meet her. L had a C-section after a long labour, so they're still in hospital and we're not allowed to mention anything about this on Facebook as she wants to tell her pals. So mum's the word, OK? Do you have that expression in America? It means keep your gob shut.
Night night xxx
9:55 p.m. - 04.06.12

-----------------------------------------------------------------------------------------