annanotbob2's Diaryland Diary
-----------------------------------------------------------------------------------------
Good enough
1. Yay for acupuncture. Feeling very much calmer since my session this morning.
2. Also for R, who today rebuilt the bench of shame (long story) and made me a screen for the front room:
which Bloke has been promising to do since I moved into the last place, five years ago. Now I can have the window open without Bob escaping into the dangerous world.
I forgot to take a pic of the bench but here is one from it: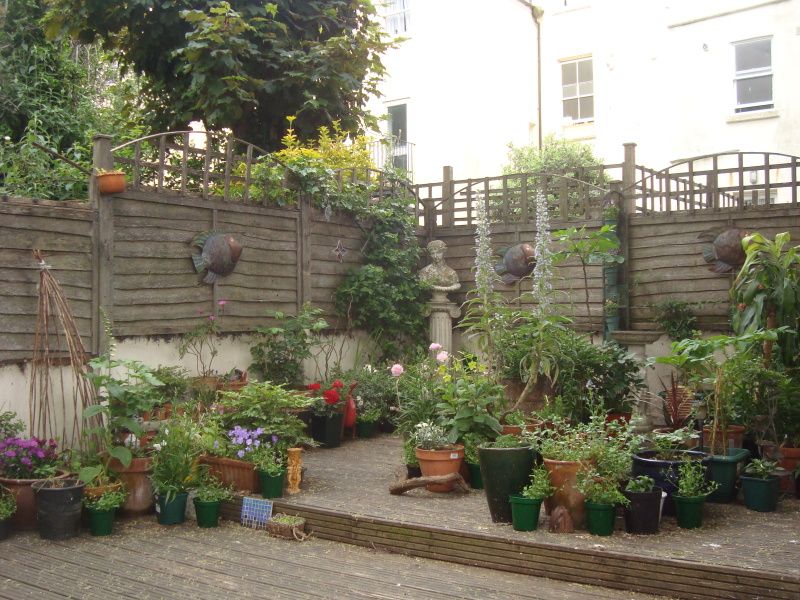 I love gardening so much. I really want about another £100 worth of plants and pots to really make some headway in hiding that fence. When I'm in it I don't notice the fence. At the moment I'm enthralled by tendrils - the passion-flower makes them so quickly I'm amazed I can't actually watch them grow and they twist so beautifully - look in the bottom left of this pic:
The other good thing today was my carers' counselling. Last week I filled her in on the back-ground and she told me that from now on we'll be looking at how I feel about it all. So while I was on the bus travelling to the appointment I asked myself what I was feeling. Overwhelmed, sad, angry and resentful. As I told her when she asked. We got into 'resentful' a bit - that is how I feel about leaving my garden right now, and about not being able to smoke fags indoors at ED's, never mind spliffs (to name just a few, spurious reasons), but I'm choosing to go, because the thought of not going, not doing my best to help her through this, is far worse than a bit of resentment.
This led the counsellor to admonish me about always putting other people's needs first, so I set her straight about that. My needs are in there too, which is why you find me here today, not up at ED's already. She wasn't expecting that and suddenly the word 'wisdom' was being bandied about all over the place. She thinks I am The Keeper of The Wisdom. Yeah, right.
Still, I was pretty mellow after our session, came home, made the pesto mash into cakes, fried them and ate them with everything fresh I had left. Not great eating, but good enough.
Laters, sweet peas. Happy long weekend xx
11:47 p.m. - 01.06.12

-----------------------------------------------------------------------------------------