annanotbob2's Diaryland Diary
-----------------------------------------------------------------------------------------
Tuesday
Didn't go and look at that flat - woke up early enough but fell to pieces with premature anxiety about whether or not to put down the necessary non-refundable deposit to secure the place if the rooms were big enough. Luckily Bloke phoned, heard from my voice that I was agitated and talked me through it. I cancelled. Too tired, too big a decision, too dangerous for Bobcat.
Had a moment (or several) of despair at the task of finding anywhere that I'd know was all right, but managed to tidy front room a bit while sobbing with anger at it all. Then toddled off to art class.
Hurrah for art class. I teetered on the brink of walking out for the first ten minutes or so - I couldn't get myself focused on the teacher and what she was saying about landscapes in pen and wash - her words went into my ears as sounds, but didn't reach my brain. But I stayed and painted another picture based on the photo Bloke took a few years ago. It's OK, a bit better than the one I did before and I managed to stop before I fucked it up completely: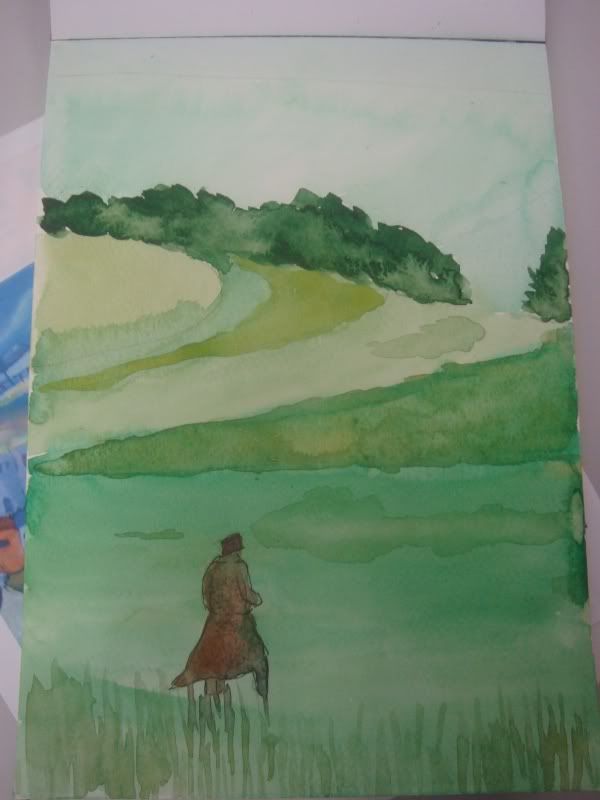 I like this one, copied (more or less) from a painting, much more:
although It's not finished, I was too impatient with putting the paint on when time was running out and it's on sketchbook paper, which Teacher says doesn't help. So I might go down town and buy a sheet of water colour paper tomorrow and have a go at doing something else in that kind of style. I have a photo of the area I live in that lends itself to having a go.
Younger Daughter's best mate from college is sleeping here tonight as she has some internship in town tomorrow. We managed to yak for several hours, putting the world to rights. She's a bit of an event, if you know what I mean - generally high maintenance, but on good behaviour at her friend's mother's house as she's a good girl really.
Grateful for: a home people come and stay in - seven people have slept in that room since YD went back to college; a big pot of chicken and veg soup that will last a few days; my lovely bed; ending the day better than I started it.
Sweet dreams xx
10:02 p.m. - 01.11.11

-----------------------------------------------------------------------------------------