annanotbob2's Diaryland Diary
-----------------------------------------------------------------------------------------
Sing
No change in ED today, other than being moved to the gastro ward, another tiny, four-bedded set-up which gets a good report from SIL. She's knackered though - did I mention she was also full of a nasty infection that had been left untreated for too long? They're giving her intravenous fluids, a nutritional mix via a nasal tube and an antibiotic mouth spray, so she'll be improving all the time. I'm not going up there though, not this week. I just can't.
All that's happened recently made me think about the debate in the US a while ago, about 'socialised medicine'. I remember talk of 'death panels' who would decide who got treatment and who didn't - not sure if that was presented as a future spectre or a description of how it is in the UK, but I want to state clearly that this is not what happened with ED. There was conversation about treating/not treating her (for the stomach tube, not for her current ills - there was no doubt about treatment for those) and although this was fucking vile, deeply traumatic etc, it was as gentle and respectful as could be - just ascertaining that it wasn't pointless, really. Or prolonging her suffering. There was no attempt at persuading us not to - that last doctor, the gastro guy, was confronted by a slack, expressionless face, a body slumped off centre and not a flicker of response to our conversation - he was right to gently enquire why we were doing this. But she had been present, on and off (as she was again outside the hospital, when we bumped into one of the care workers, and ED's face lit up at the sound of her voice). As soon as he knew that, he was cool. Someone somewhere must be making awful decisions, though. You can't keep on squeezing the funds without an impact.
The photo-a-day prompt did for me today. "I can't live without..." It somehow sucked all the joy out of me. I took this in the end, sunshine:
Here's my collage, which I present to you just as it is, without a single claim attached to its merit. It took about an hour. I felt the need to tear photos of textures out of a National Geographic magazine and cut them into straight blocks. I was all about control.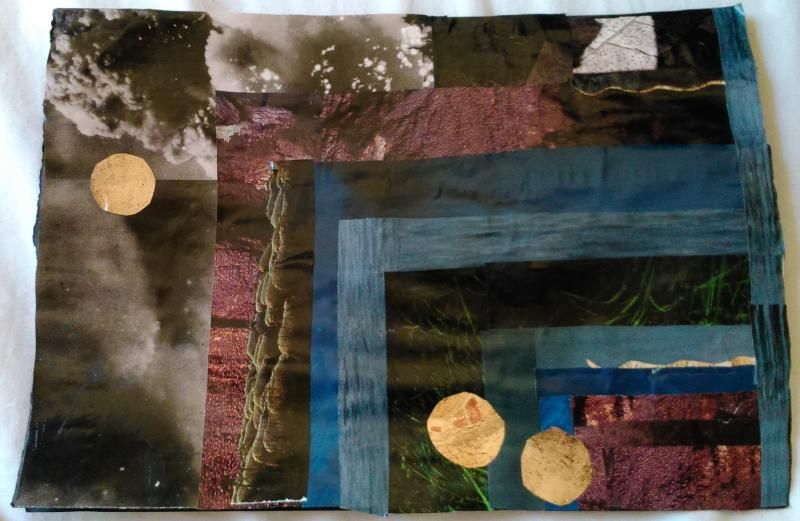 Not enough to find (or even look for) something round to enable actual gold 'circles', obvs.
I'd like to do some drawing again, but haven't yet been able to motivate myself to actually locate my pad and pens. Yet.
That tree out the back is becoming transparent at last: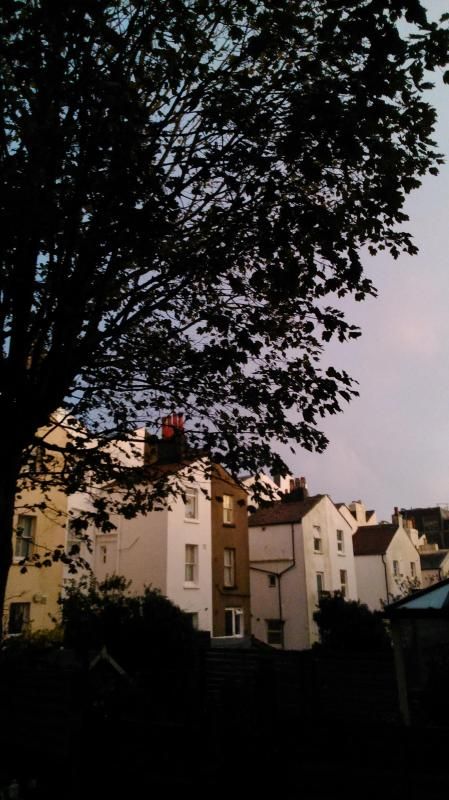 Just when it's starting to get too cold to sit out, sun or no sun.
Grateful for: Bloke getting me out of the house today; NHS, still and always; kindness; bed; furry boots.
xxx
12:34 a.m. - 05.11.14

-----------------------------------------------------------------------------------------