annanotbob2's Diaryland Diary
-----------------------------------------------------------------------------------------
Gardening blues
I don't know what's happened to Sunday night telly. Nothing at all for me. I'm half watching a documentary about the garden at Hidcote, but it's a bit spoiled by the memory of Derek Jarman referring to it as 'Hideouscote'.
Bloke and I cleared my garden yesterday, ready for the scaffolding. We shoved all the plants onto the raised back part: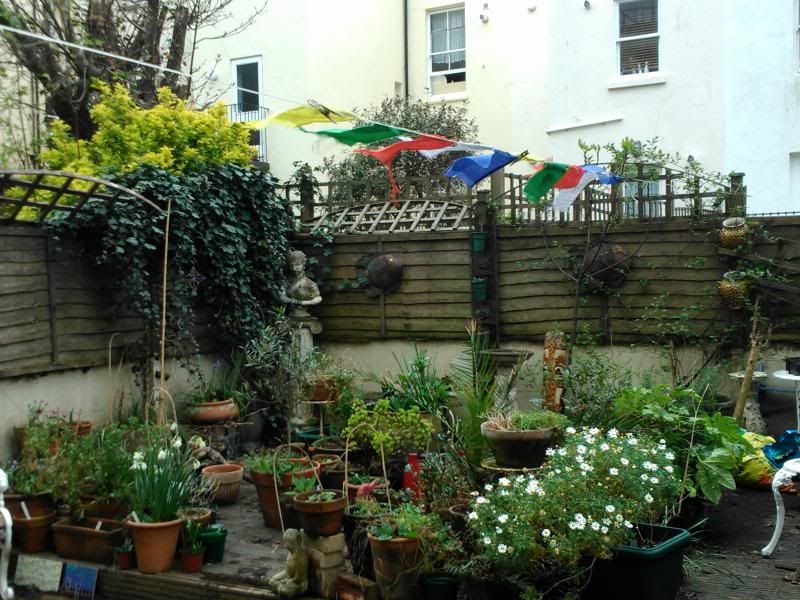 where they look half decent from a distance, all gathered together. Then we got a bit zero tolerance with the other section, turning this sort of malarkey:
into this: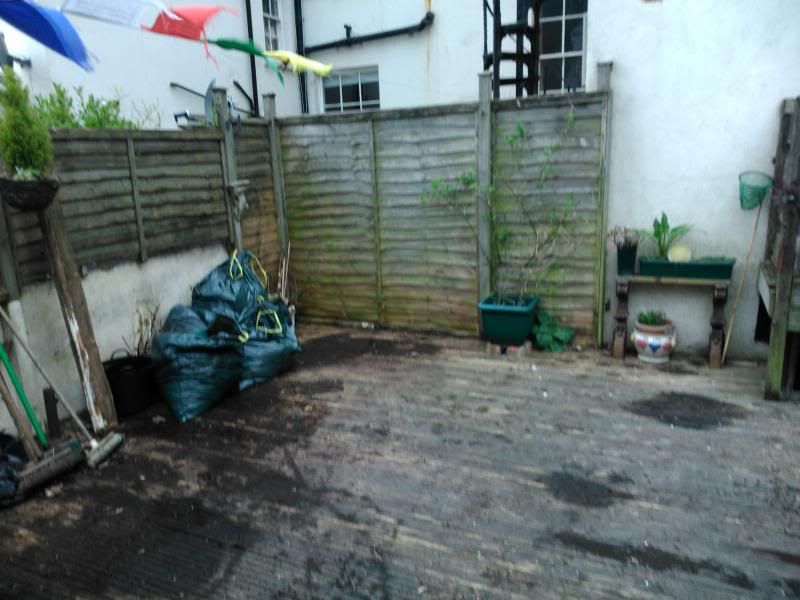 Grim but temporary. The green sacks are full of leaves from the poxy tree, headed for the compost bin at the allotment.
I have a load of ideas for improving it - I bought six tiny ivies, all different, for next to nothing in the autumn, intending to set them off around the edges to cover the fence. But the fence is only held together by a wish and a prayer, and the landlord will replace it this year, so that's off for now. And I could get several more fatsias (big leaves on the right of the pic of the plants) as they seem to actually thrive in these conditions, but they are expensive. Just looked up how to propagate: "Propagate by semi-hardwood cuttings" which sounds complicated. I don't have any cash to spend on it at all, especially as it's so trial and error, resulting in mostly error. I know hardy geraniums love it and I do have a few - another twenty of them would see me right - there are masses of varieties, all with pretty, small flowers and plenteous lovely foliage.
The boy came and stayed and did a small amount of heavy lifting but was not getting dirty under any circs and mainly hogged the keyboard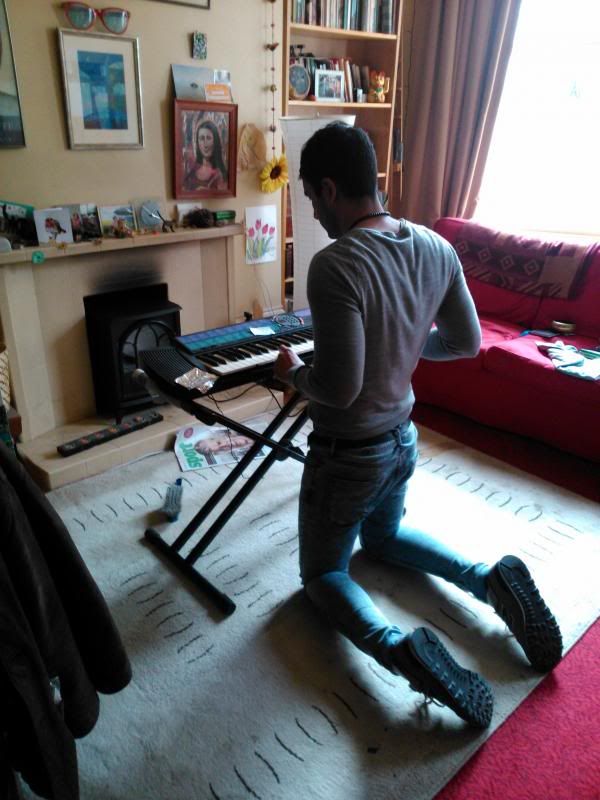 He's been offered the job he interviewed for a few weeks ago, pending medicals, which he intends to take even if he will only be able to do it for six months before starting his PhD, as it's hands on legal work which will give his CV the boost that could open a whole load of doors.
Today Bloke and I wandered down to the museum and art gallery for an exhibition of sea paintings, which was totally misnamed but still worth a look. We sat here for a while, having a coffee
and since then I've mainly been pondering what I can do with Grandson when he comes down. I'll let you know if I come up with something
Today I am grateful for: Son dong all the washing up; heavy rain last night, just what my pots needed; MS counselling tomorrow; friends; family
Sleep tight xx

12:03 a.m. - 07.04.14

-----------------------------------------------------------------------------------------