annanotbob2's Diaryland Diary
-----------------------------------------------------------------------------------------
Sweet and mellow
Many thanks for all the kind birthday wishes - lovely.
A lovely day (after a shaky, solitary start), going to the allotment with Bloke, S and M and making a paella, ha ha. Not my favourite kind of paella, which is mixed, with chicken, rabbit, chorizo, squid, prawns etc etc. This was a Valencian one, my concession to M and Bloke who don't eat seafood and went to the shop for the ingredients.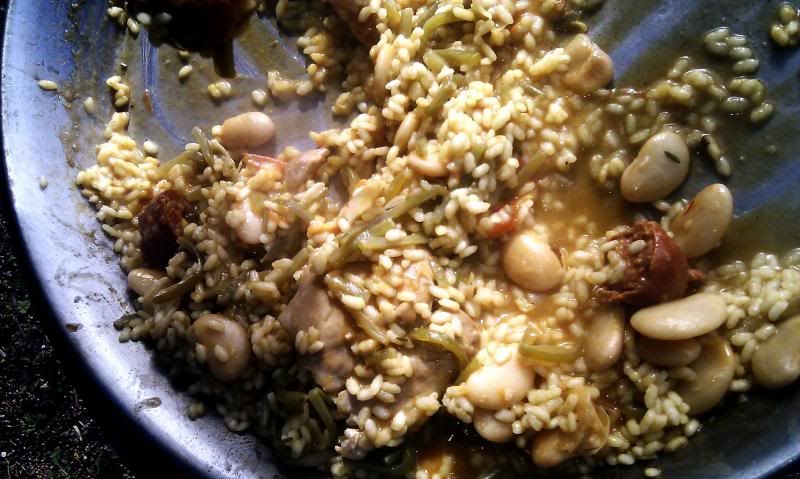 Cooking from scratch in the open air is one of life's pleasures, don't you think? M behaved herself and let me cook without getting all sulky about it; the sun was shining, the wind has died down, the birds were singing and all was well.
I came home, bought myself a box of chocolates and scoffed them all while watching Big Brother. I wasn't going to start this year, but thought I'd just have a little peep to see who's in there this time and I'm hooked already. They're always at their worst at the beginning, showing off and trying to make an impression, but it's always fascinating (to me) seeing relationships develop and facades fall away. More interesting women this time - since it's gone to Ch5 and plummeted down-market there's been an over-reliance on glamour models, which is fine for the lezzers and the blokes but offers little to the rest of us as they tend to be quite uninteresting conversationally. This time there's a greater range, including one who describes herself as a 'hardcore lesbian fisherwoman' - very comfortable in her skin and her low income.
And for my dad - he was nothing at all like Ian Dury's dad, but this song captures the essence of how I feel about him.
All the best, Dad, from your girl xx
11:44 p.m. - 16.06.13

-----------------------------------------------------------------------------------------