annanotbob2's Diaryland Diary
-----------------------------------------------------------------------------------------
Sweet child of mIne
Today's topic for the photo-a-day was 'From where you live'. I had plans for this, last night, when I went to bed. By morning, none of them seemed possible. I've been grinding my teeth again and the mouthguard I used last time no longer fitted, since I walked into that glass door and re-arranged my front teeth. The new dentist made me a soft one and I'm amazed at the impact. If I wear if, I clench my teeth really hard all night - the fact that they're so close and tight is the first thing I'm aware of when I wake up. And although I'm still having intense dreams, they're further back, they don't come with me into my waking life.
But every few days, I forget to put the guard in before I sleep and back come the dreams, visceral, shocking nightmares that won't be shaken off.
So it was like that today. Awful. But I was going to do my pic for the day at the very least. Point, click, post - I can do that. So:
Day 6: From where you live. Not always, but too often, (like today), in the land of the black dog of depression, trapped inside, looking out.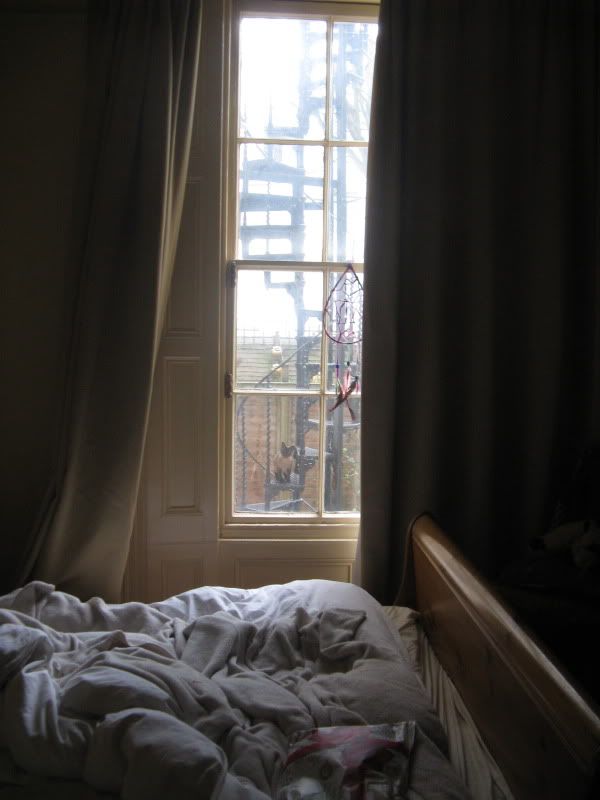 Aw man, I got so many supportive comments, especially on the photo site, from strangers. And YD posted:
"mama come and stay in our newly decorated flat, the guest room is exquisite and we'll cook you yummy food and watch crappy tv and let you smoke in bed. yes?"
Oh yes.
Today I am grateful for lifelines when I wasn't waving but drowning
9:50 p.m. - 06.12.12

-----------------------------------------------------------------------------------------