annanotbob2's Diaryland Diary
-----------------------------------------------------------------------------------------
And I'm still rollin' along
Made it to art class today, for what should have been week two of three dedicated to a final project. Well, I can't choose a fucking project - there has been an absolute and total absence of a single glimmer of an idea for a fucking art project, but I got my head round that and decided that there would be no problem if I just turned up with something to draw and drew it, as indeed there wasn't.
When I look at them now, I can see that in each one I'd like to click the undo button about three times. The point at which I start spoiling a painting remains well below forty-five minutes, which is kind of disappointing, or maybe means I should move to an acrylics class, where you can mend mistakes. I signed up for next term of this class today, but I may look for a change in September. I just like to spend a couple of hours doing art, but I think I would like to work on one piece over a period of time, improving rather than ruining: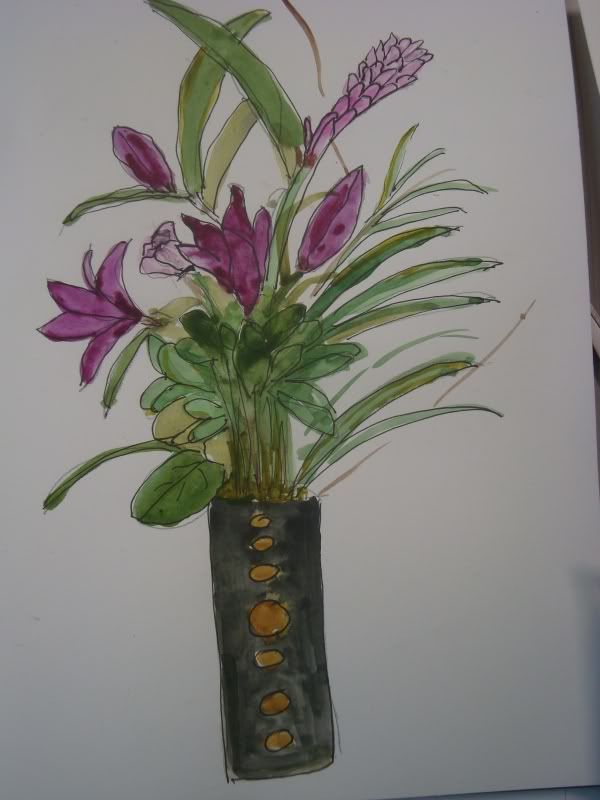 I walked the two miles back from class and think I'm going to - oh god, I don't even want to write it down when I think of the things I say I'm going to do on here and never get round to, but I want to walk two miles most days if not every day. It's not far when you actually do it and it's got to be good for me, even if I am only slouching. I'm still carting my body weight up hill and down dale, which is better than lying down and I must get back to a normal pace in the end, surely?
For some reason I became more engaged than usual with the turning of the season today, the equinox. Having several druidy, wiccanish types amongst my close friends, I knew there were rituals and activities that could be carried out to mark or celebrate the day, so I looked it up and made myself an altar, which was remarkably satisfying.
The four elements are represented with flowers for earth, feathers for air, candles for fire, and the incense burner for water. There's a picture of my kids and grandson, a silk scarf representing love and support and a statue of David, for art and beauty and creative loveliness of all kinds. It's a very cheap statue, which seems right and significant somehow. It's easy to gaze at and hope
I wrote a long list of gratitudes this evening. I want to have them on paper where I can see them. There may be crapola of all kind flying around, but there's mountains of blessings too.
Laters x
11:26 p.m. - 20.03.12

-----------------------------------------------------------------------------------------