annanotbob2's Diaryland Diary
-----------------------------------------------------------------------------------------
Dance me through the panic
Oy. I'm home again, in somewhat better shape than when I left. Now that I'm back, and especially after talking to M, I've had a huge rush of stuff about Grandson. M's as good as it gets when it comes to youth and mountains of difficult shit accumulating in a kid's life, so her reassurance that what I've done is throw GS a lifeline means a lot. SIL gave me a right old-fashioned look when I told him about what was going on, a look I couldn't quite interpret. My response to this look was also complicated so I kept it to myself until I had time to think it through. Now that I have, it adds up to, 'If you don't like it then you step up, motherfucker,' but with a good dollop of understanding and some compassion for the reasons he has not stepped up thus far - fuck all that, it's passed. I had a feeling that SIL's recent experiences may have given him cause to re-evaluate his life and his priorities, but that may have been wishful thinking. We're ALL let that little boy drift through this terrible stuff without any outward show of emotion ('s okay, not bothered, shrug, etc), but with a visible loss of energy, spark, or interest in anything. Looking at him just breaks my heart. And apart from the fact that I've done and said everything I can to try and support him without bringing in outside agencies, we don't have a great record with getting boys safely through puberty in my family. Let's try having some support this time.
Anyway, enough of all that.
Me and girlie went to the woods, a new woods, well, new to me, which promises to be utterly luscious come bluebell time. I'm not posting pics of her while all this is going on, but here I am, titting about: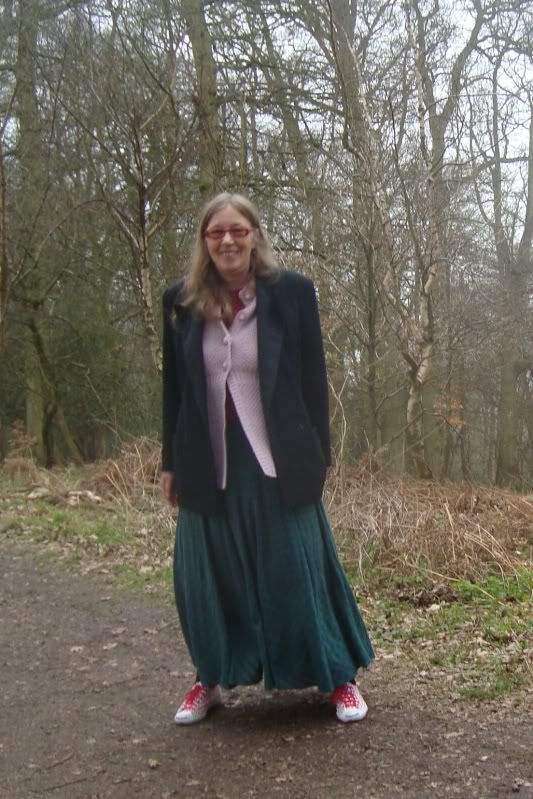 and again later, doing cooking with one of the neighbouring angel children: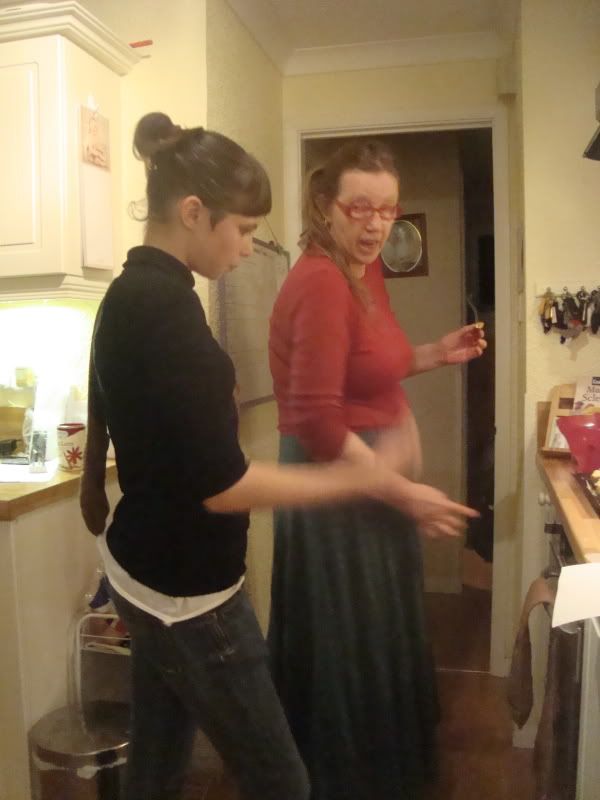 I watched Calendar Girls late on the telly while I was there, and was very gratified to see Helen Mirren wearing my M&S cardie when she gave her big speech to the WI conference. Anna from This Life used to wear my dressing gown, also from M&S, and a bit more glam than that sounds.
I've had Montalban on the telly while I've been writing this, to tune myself in to a bit of Italiano, in prep for my trip to Firenze. Oh yeah.
Grateful for: being more settled in my head; a date with Nurseyboy for a walk on the pier tomorrow; lovely M, coming round on Sat to help me with the form re GS; Bloke feeding Bob and washing up while I was gone; ED being much better on her legs than when I last saw her - did I mention that? She's whizzing around with her zimmer frame, yay! Go ED!
Sweet dreams xx
12:57 a.m. - 15.03.12

-----------------------------------------------------------------------------------------