annanotbob2's Diaryland Diary
-----------------------------------------------------------------------------------------
Beside the seaside, beside the sea
Trying to write earlier as I've gone a bit too nocturnal - the clocks go back in a few weeks but I can't work out if that will make it better or worse.
Good day, today. Acupuncture session, always good. Walked to the beach - total of 1.86 miles (still loving mapometer,com) - ate nasty but cheap fish and chips, then hired a deckchair: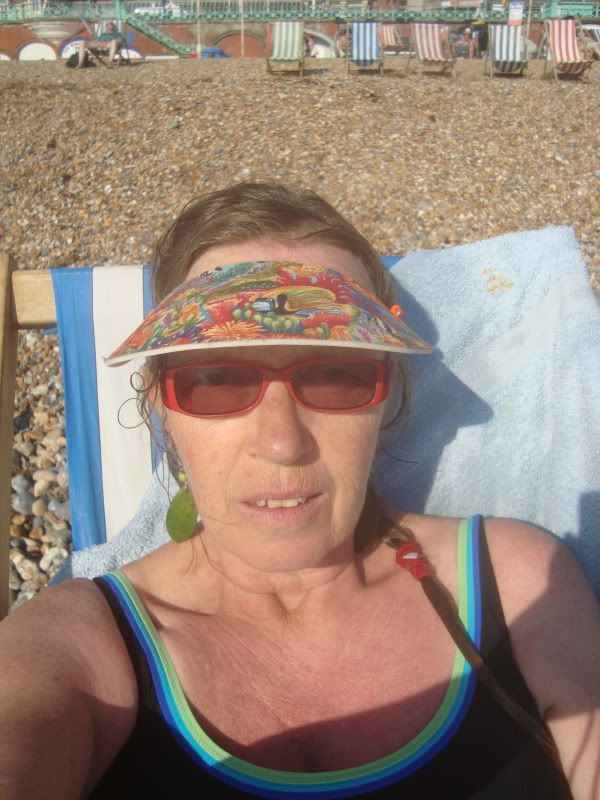 and chilled out for the afternoon. Floated in the sea between the piers - can't honestly call it swimming, but I am trying to be mindful of the instructions I have from all quarters to REST and only use energy that I actually have, whilst not being prepared to forgo this last day of unseasonable warmth. So I do a bit, rest a bit, do a bit more and try to be philosophical about it rather than LIVID, which is a very tiring emotion with no good outcome.
I did some sketching - bloody people, they only sit still until you start drawing them, at which point they fuck off, even when they haven't seen they're being observed. I was trying to get these guys who were casting lines off that little jetty
and I swear they never noticed me (the beach was pretty busy) but they came and went like nobody's business. I drew lots of other people as well - I'd intended to draw the old-fashioned roundabout/carousel, being better at things that keep still, but it was all closed up under canvas for the winter. None of the sketches are much cop, but still, at least I have something to show my art teacher tomorrow, to demonstrate my enthusiasm.
Hope you are all well. Laters x
12:17 a.m. - 04.10.11

-----------------------------------------------------------------------------------------