annanotbob2's Diaryland Diary
-----------------------------------------------------------------------------------------
Walking not the dog
The more the big-shots of the Labour party mouth off about what a disaster for the country it will be if Jeremy Corbyn becomes leader (of the Labour party) the clearer it becomes that this is now a party that has completely forgotten its roots and has settled into being a soft version of the conservatives, much like Democrats and Republicans in the US. No fucker looking out for those at the bottom, all enslaved by big money.
They're saying Labour under Corbyn is unelectable, but they don't know that, they just fear his adherence to a few basic principles, but they've cottoned on to the idea of the Big Lie, endlessly repeated till everyone believes it.
Ach, I'm too grumpy to think about it. I joined the party to vote for him anyway, as I'm a socialist through and through and maybe this will see a return to some kind of socialist agenda, though he's not the raving commie they'd have you believe. Fingers crossed is what I say. He is currently the only hope of an end to taking from the poor to give to the rich.
I tried going for a walk today, something I've let slip of late. I lost my pedometer when I moved bedrooms, or around that time. I can't imagine where it can be - I took it off and hung it on the bedpost at night, then put it back on in the mornings, which doesn't leave any room for getting lost, but it has. Anyway, it was hotter out than I'd expected, and having just checked on mapometer, I only managed a mile and a half, which is pretty crap. The seafront here is very different, with a bit of a run-down, fifties vibe going on, but it's still a work-place, which I like: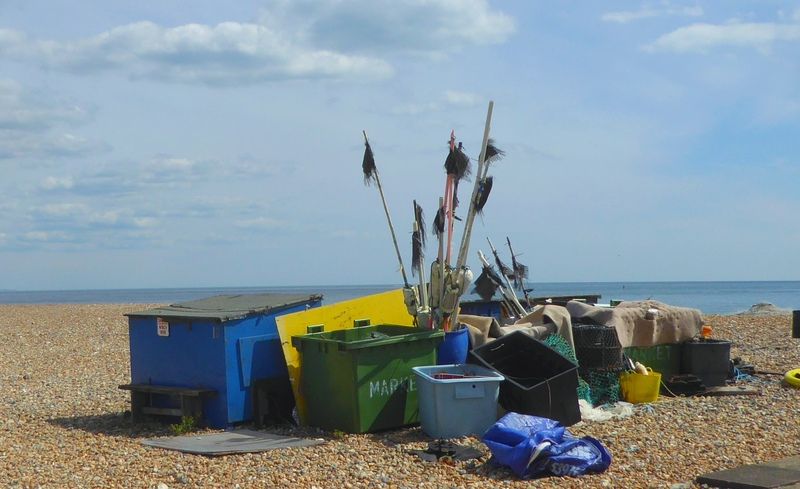 I think I'll get a new pedometer tomorrow and try to make more of an effort. I haven't been going to yoga regularly either and it's no good, doing nothing physical at my age (61), unless you're happy to let your body gradually seize up. I plan on getting a dog at some point but I don't have a scrap of kindness in me for a dumb animal at this point.
Don't bother reading that book called something like "The Strange Disappearance of the Frasers" - I'll tell you now, it turns out to hinge on a guy being falsely accused of rape, not once but twice. I'm sure it does happen, and when it does it's obviously wrong, but I'm more worried about the low rate of conviction for actual rapists, currently about 7%, I believe. None of the women I know (including myself, twice), has seen their rapist even charged.
I am grateful for: Bloke watering the garden; Grandson having a football team to play for; having new novels by Sophie Hannah and Malcolm Mackay to read; smoking again taking me into the garden in the still of the night; bedtime fast approaching.
Take care, dear hearts xx
1:30 a.m. - 18.08.15

-----------------------------------------------------------------------------------------