annanotbob2's Diaryland Diary
-----------------------------------------------------------------------------------------
Misty
I had a little glimmer of a sensation that I might be past the worst of this current doom-crisis - too early to be sure, but better than a poke in the eye with a sharp stick.
I am beset with stupid physical health stuff which I barely have the nerve to mention knowing how much hard breathing and cancer and right-up-against-it stuff there is amongst you, dear readers, but it's having a big impact on my mental health and I want it writ down for future ref. It's all to do with blood pressure (too high) and the cuff on the thingy they gave me to measure it myself at home (too tight) and the free-range anxiety I carry with me, always available to latch onto anything (specialist subject: making mountains out of molehills), so that I can't even think of taking my blood pressure without having a substantial panic attack and I'm up to 170/105 and I want to just stop but I'm scared. All the things to lower your bp are either stuff I'm already doing - no smoking (SOB), walking, not eating processed food - or just too hard - lose weight, eat low-fat, low-salt diet - or taking medication which only cures the symptom not the cause.
And I'm heart-broken for my grandson, my sweet boy, struggling hard today.
But it was weird and beautiful on the beach this afternoon (and how blessed I am that this is a viable route home from my group) - a heavy fret came in and sat just on the coast - 100 yards inland was fine - but the place was still heaving with fun-lovers, looming in and out of view in the mist: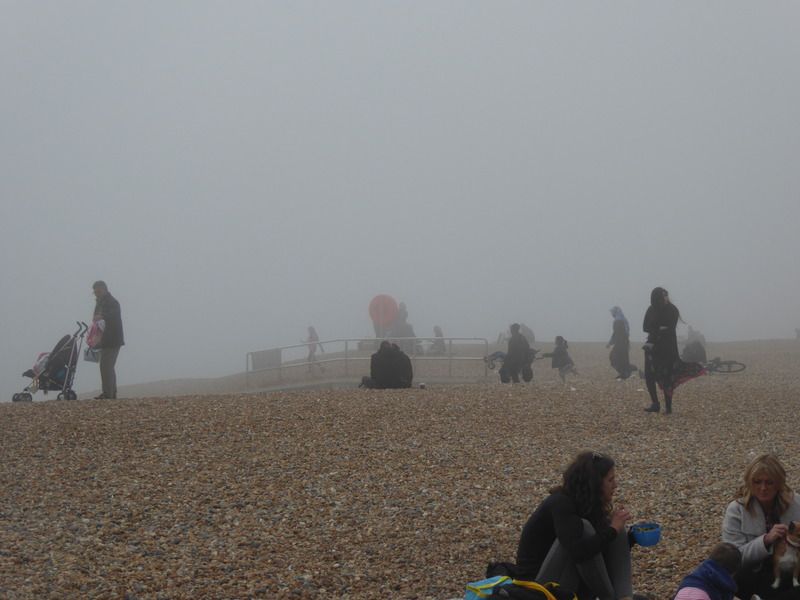 No sun, no sea, but fuck it, let's have a picnic.
Even on the water's very edge there was not a trace of the pier: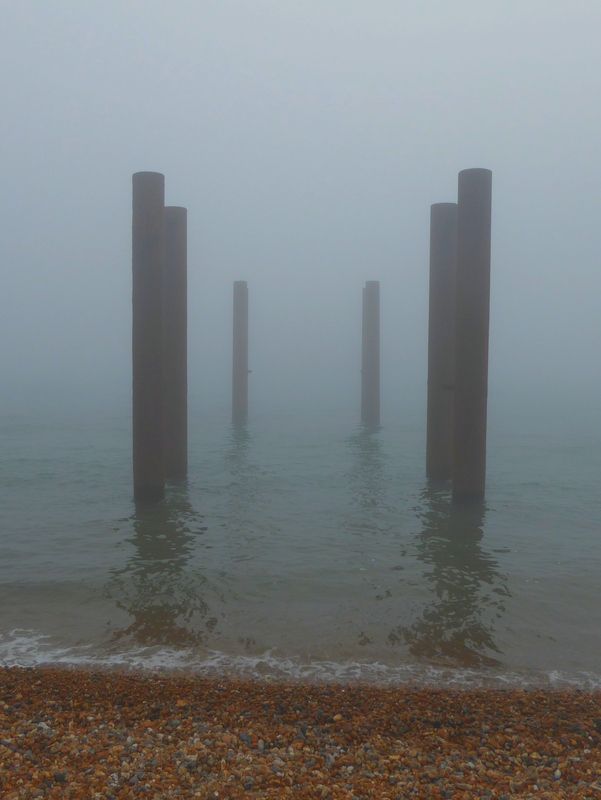 And tonight Reenie linked to some wise words by Anne Lamott (on fb or I'd link them on here) that somehow tweeked a part of me into a bit of positivity. So yay. And all that.
I am grateful for: my recovery group and the astoundingly grand people in it; bed; art group tomorrow; googling 'rectangular garden designs veg images'; finding the Martin Scorsese george Harrison documentary for 99p in the Oxfam shop.
12:43 a.m. - 10.04.15

-----------------------------------------------------------------------------------------