annanotbob2's Diaryland Diary
-----------------------------------------------------------------------------------------
Claire
My younger daughter and I have made a commitment to try and live in the positive a bit more than we've been doing. If we can. I keep trying to find the right words to google to link me up with other mothers who have lost/are losing an adult child but I only get things about after the child has gone, died, not as you hurtle towards it. Maybe this befuddled state is so common that none of us has managed to communicate about it. I'm not going to be the one to set anything up. I don't have a scrap of focus or supportiveness available. So we'll see how we go, me and YD, in our mission to try and be a bit less fucking miz all the bloody time, in a very gentle, low pressure manner.
And as her husband went off to visit his parents this weekend, she invited me up to stay and go to the Grayson Perry exhibition at the NPG. I went up yesterday (Sat) and to do my steps we walked under the Thames through the Greenwich foot tunnel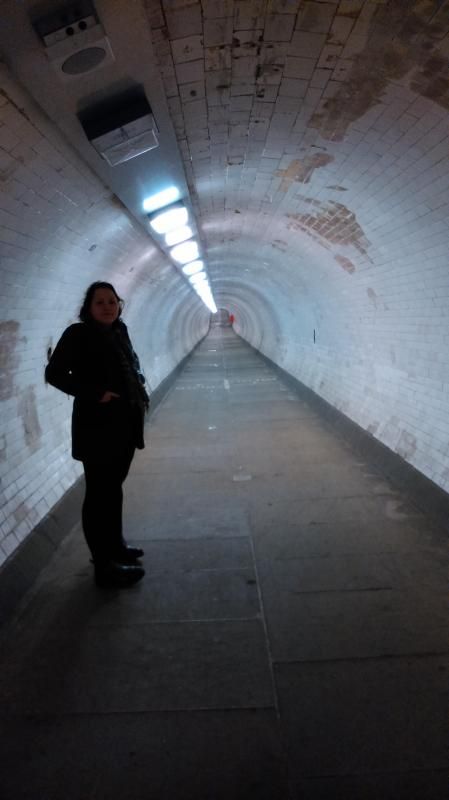 which was quite out of the ordinary. We then mooched along the other riverbank in the grey January gloom, Magwitching about. This is me: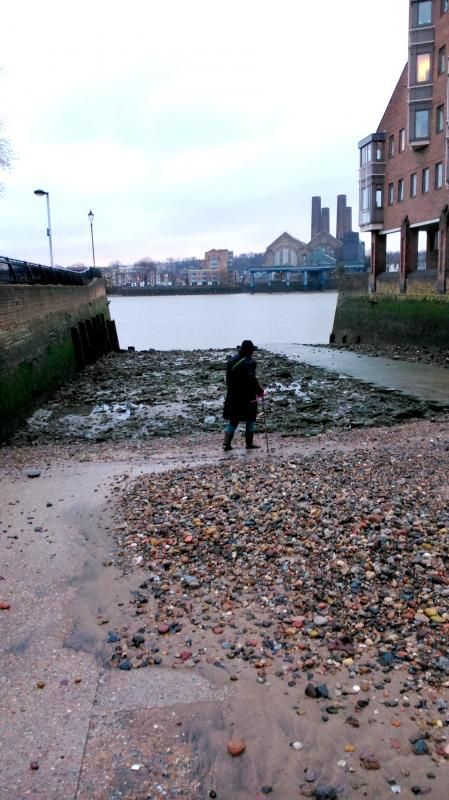 I found lots of smooth glass fragments - are they still sea glass if found in a river? It's still tidal... there are seagulls:.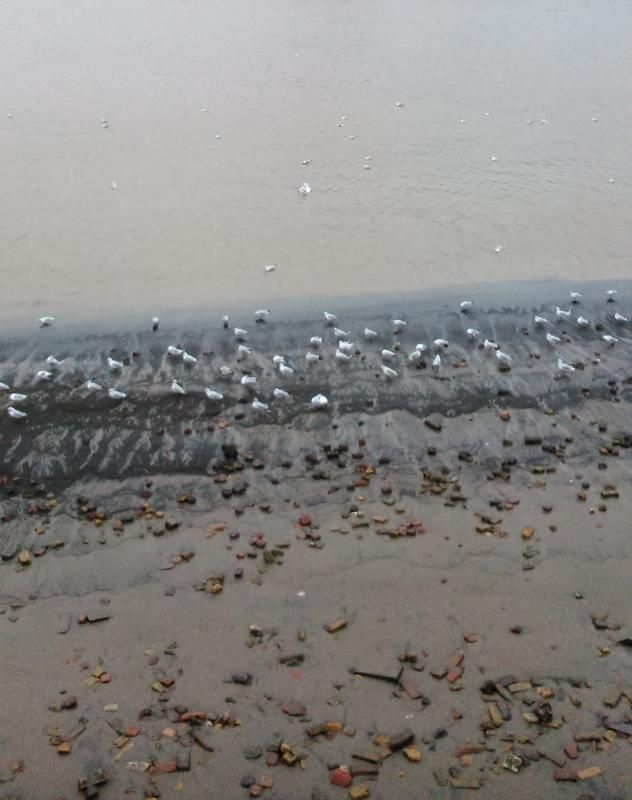 and on the way back through the tunnel we bumped into these two, who work in the kids field at G1asto, for fuck's sake. Isn't she beautiful, my daughter?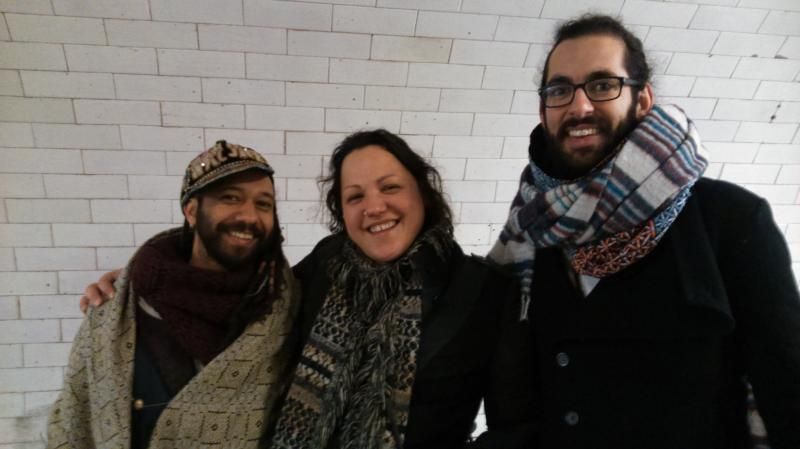 Today Son met us and came along to the exibition. This is a piece called The Comfort Blanket or something similar, a fucking massive tapestry of "things we love and hate about Britishness"
I bloody love Grayson Perry but I don't have the language or the brain cells to articulate why beyond his genial acceptance of almost everyone and his skill across a range of media. I liked his work being scattered amongst the permanent exhibits, bringing the likes of us to join the ranks of the (mostly) rich white men.
Me and the lad posed in front of people we admire (this is Clement Attlee, the first Labour Prime Minister):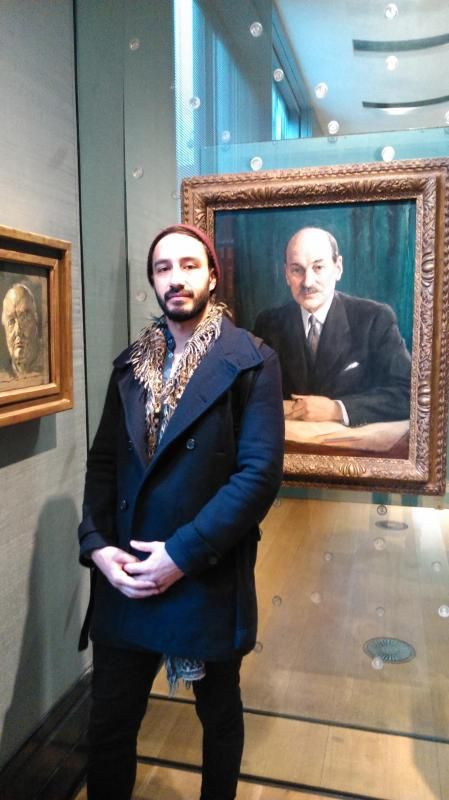 and me with Germaine Greer: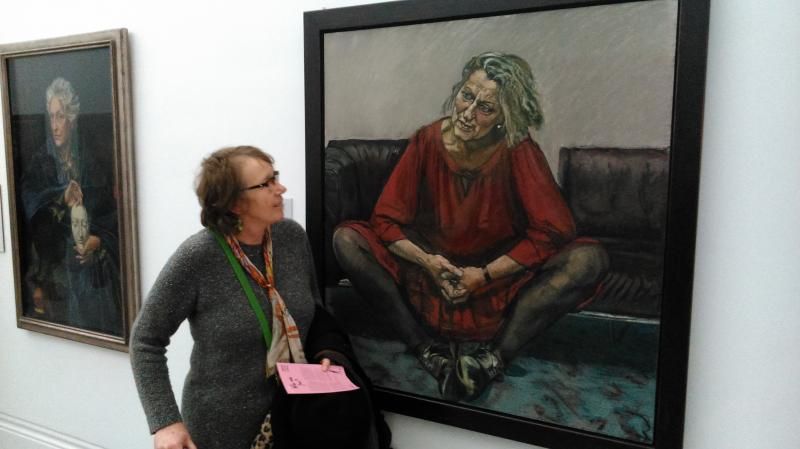 We went back to YD's on the train: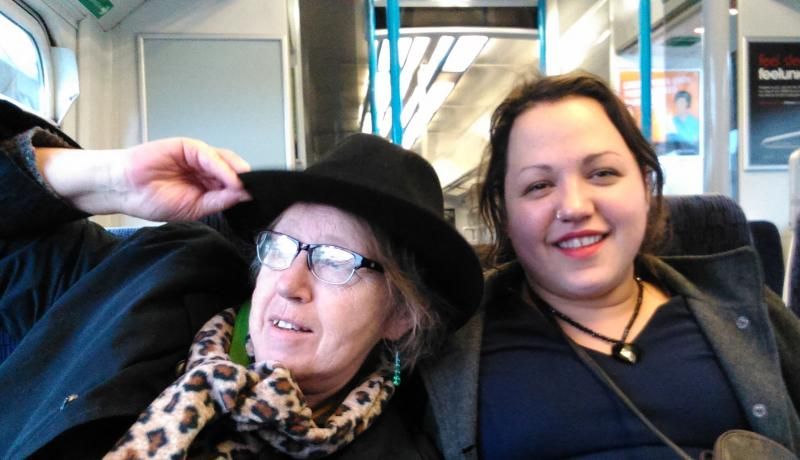 past the Shard, which probably looked quite cool from a plane coming in to land at Heathrow, above the clouds:

And it was all good. YD cooked us a beautiful dinner, including haggis - I can't believe I've never eaten haggis before, though on reflection every last one of my Scottish pals is vegetarian, so that'll be it. Delish.
And the trains were fucked, both going up to London and coming home again this evening, engineering works (yawn) but I managed to avoid Ordeal by Replacement Bus Service and catch a tram between East and West Croydon, and that was another first.
I am grateful for: My kids; free national galleries; camera phone; warm bed; days getting longer
Sweet dreams xxxxx
1:53 a.m. - 05.01.15

-----------------------------------------------------------------------------------------