annanotbob2's Diaryland Diary
-----------------------------------------------------------------------------------------
weak
I was going to write a list of twenty things that piss me off, as a way of stopping myself trying not to think of them all the time, but most of them turn out to be political and it's just so fucking depressing and no one gives a fuck even though they too have grandchildren. I mean, why does no one with any power care about what kind of world this will be in fifty years time? Profit now, no, I'm not going there.
I'm back on the same old thorny point of not being able to think of anything useful to do that has any chance of making a difference so fuck it, I'll bury my head in the sand too and pretend that someone else will be along soon to save us from ourselves.
I'm now a whole week away from my last smoke and pretty fucking unstable, I reckon. Today I mainly walked, wearing two pedometers as I've had my suspicions about the accuracy of the new one. That says I've walked 6458 steps, equalling 3.45 km or 2.14 miles, whereas the old one is saying 9566 steps, 8.73km, 5.43 miles. Well, clearly there's all sorts of problems there, none of it makes any sense. I know I have to keep walking though, so I do.
And managed to do some drawing at home. Having forgotten everything I was ever taught, I've gone back to where I started, which was with natural forms, specifically garlic.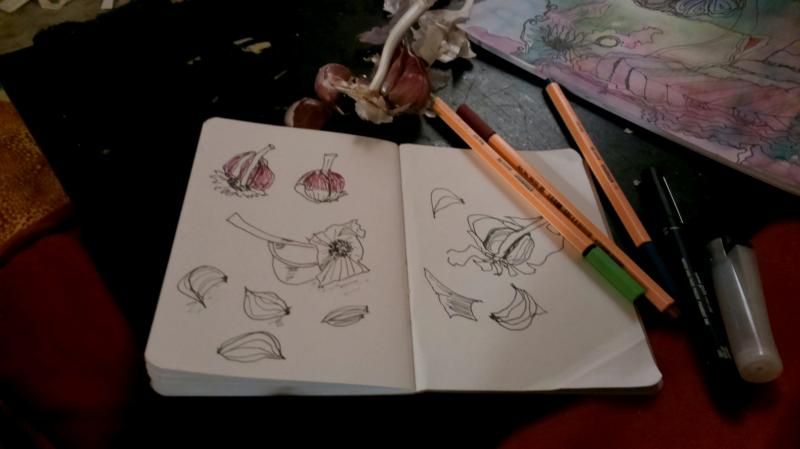 I am also stuck with the gratitude which I'm not feeling though I know how privileged I am in so many ways, but I'm fed up of trying to be fucking decent all the time in the face of so much fuckery.
So that's me.

1:55 a.m. - 19.11.14

-----------------------------------------------------------------------------------------