annanotbob2's Diaryland Diary
-----------------------------------------------------------------------------------------
Day6
There's something with the fags and the writing and the dying. I haven't worked it out exactly, but there's an ache and a fear and a yearning to be distracted by something, anything, because It will be bad enough when it gets here without letting the anticipation of it spoil whatever time we have left without it.
There's no comfort to be had right now.
There's shit going on at the care home - wholesale staff change, including the ward manager who loved my girl and fought battles on her behalf. I fucking HATE this - we have no power because we have no alternative. This is the only place for miles that takes younger people not just elderly, and she is settled there but I'm back to being anxious for her well-being with no idea whether it's necessary or just mental.
I made it to art today where she wanted us to do a bit of experimental mixed media with wax and paint. It was a bit crap really - only white candles to draw with and the lines were invisible, vanishing into the paper and there was no suggestion as to what to draw. I did the bottles of paint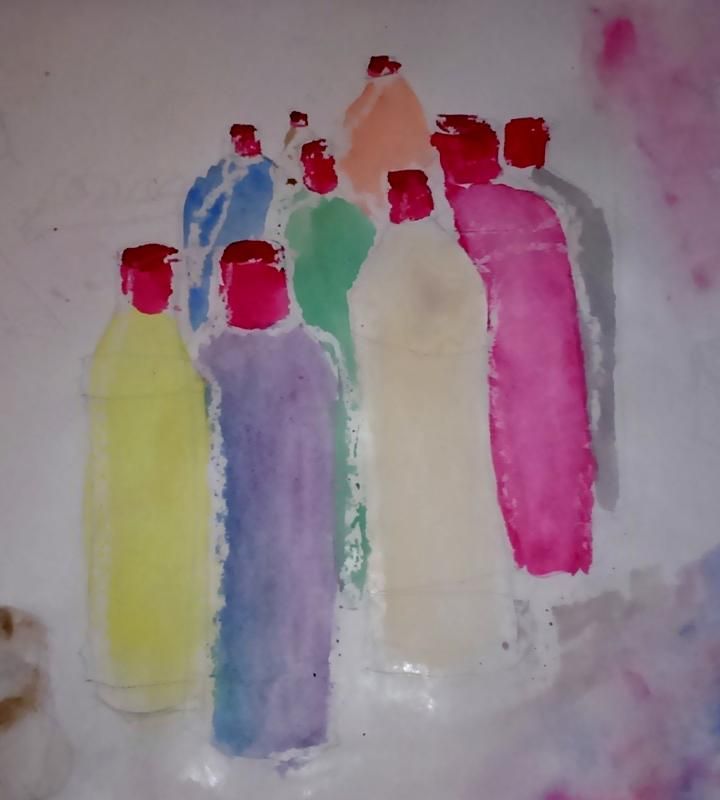 and it was nice to hold a paintbrush again. I did more after that without pretending to draw with a candle, which the woman didn't really like, she wanted me to follow the rules, but they were rubbish and I wasn't feeling at all obliging and didn't care.
1:35 a.m. - 18.11.14

-----------------------------------------------------------------------------------------