annanotbob2's Diaryland Diary
-----------------------------------------------------------------------------------------
Tuesday night
I'm writing in word as the internet has fucked off so if I forget to check I apologise now for any funny collections of speech marks where apostrophes should be.
At the care home, sitting on my camp bed next to my sleeping daughter. She's well in herself, very cheery and quite coherent but her hands are very fidgety, flying about all the time clutching at anything that passes. I gave her this stretchy strip of plasticky stuff that my MS counsellor gave me for her and that kept her hands occupied for ages, stilling her mind a bit. If she has nothing, she grasps at her clothing and gets herself tangled up.
We tried on the dresses for YD's wedding and she liked the feeling of one much more than the others, so that's all sorted, quite painlessly. She's excited about the wedding, but forgets in between times, which is kind of cool as I get to see her fresh excitement when I tell her again. The hard bit is when she repeatedly asks, "And who is this lucky man who is marrying my sister?" Poor SIL2, he floats in and out of her mind. Poor ED, too. Here she is in the dress: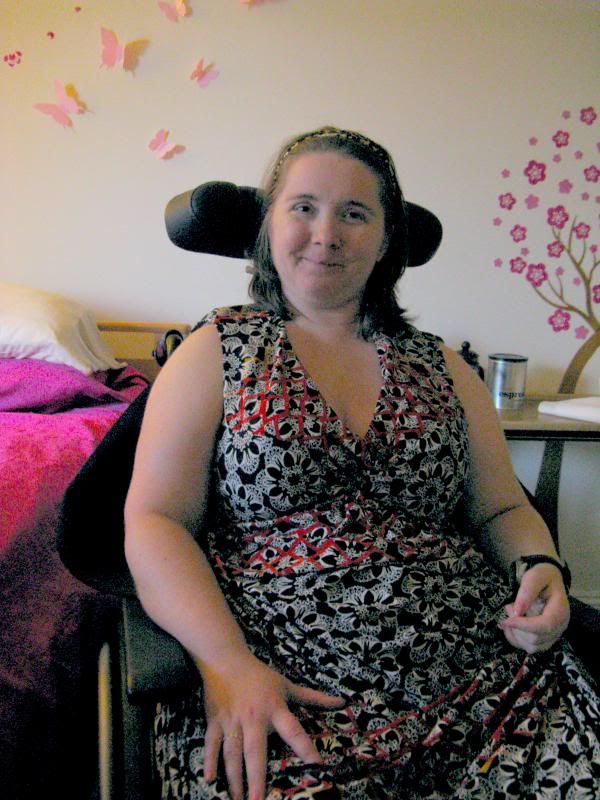 My best baba. Mind you, whichever one I'm with always feels like my favourite, but tonight I'm with her, so that's that.
I pretty much lost the plot these last few days, hence my silence. But here I am, all good again. It passes. I kept plodding on through it, up the allotment, planting, sowing, weeding, watering, all that jazz. I even forced myself to cook a nice little Delia Smith stew, enough for two days. Braised steak au poivre – for those who can't afford ribeye.

Stewing steak, onions, peppercorns, garlic, olive oil, flour, red wine, salt, crème fraiche bay leaf, a few twigs of fresh thyme.
Bash the peppercorns (a spoonful?) up in a mortar and pestle so that they're all broken but not too fine. Mix them with a spoonful of flour and coat the pieces of steak with them. I do this by putting it all in a bag, twisting the top closed with lots of air in and shaking it all about. Heat the oil good and hot and fry off the meat in batches, browning all over. Fry the chopped onions for a few minutes and add the crushed garlic after a while. Return all the meat to the pan and any leftover flour mix from the bag. Add some red wine, stirring and scraping all the tasty bits off the bottom of the pan. I didn't have much wine so I added some water with no ill effect. Chuck in the herbs, a pinch of salt, bring to the boil then bung in a medium oven for a couple of hours. Stir in a spoonful of crème fraiche before serving with plain potatoes and something green. Delish.
Today I am grateful for: These kind people looking after my girl so well; getting my mojo back a bit; an easy drive up here; acupuncture, settling me down; the return of the internet.
Sweet dreams xx

11:54 p.m. - 13.05.14

-----------------------------------------------------------------------------------------