annanotbob2's Diaryland Diary
-----------------------------------------------------------------------------------------
And kebabs
Going to see the A3 tomorrow, doing their acoustic set. Thought I didn't have the energy until I listened to this and realised I have exactly the right level of energy for some mellow:
and this:
I am beyond tired. I'd have gone to bed after Eastenders (8 o'clock) if it weren't for the boy. He's wide awake and insisting on staying up till 11 which he has done every other night.
We allotmented today. I found it impossible to start anything (SC was at home, finally getting stuck into her marking), but Bloke came up after a while and whizzed through those bramble roots as if he were nowt but a lad.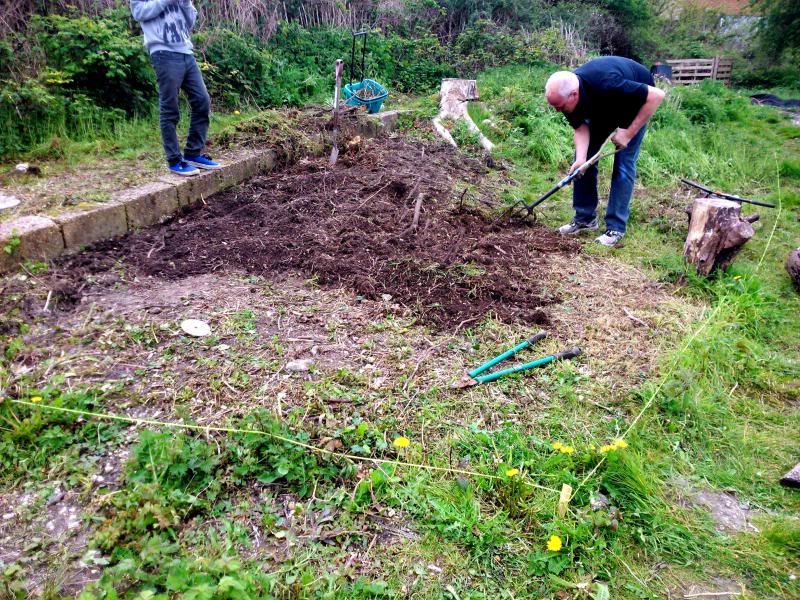 This is the bit for the 'garden of solace', a space whose angle of slope defies my attempts to capture and display its size via photos. Here it is from the top: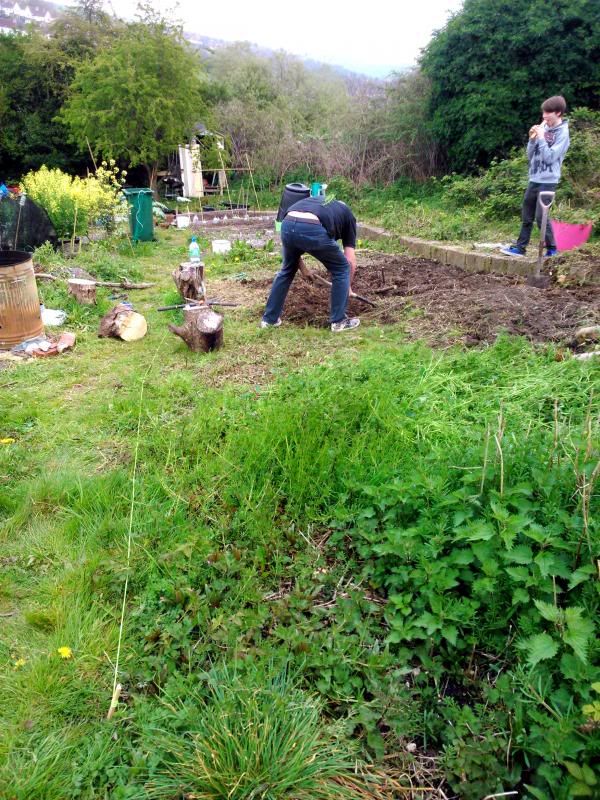 It took him an hour to do that much - I reckon four or five more and it will be cleared. I'll be following round on secondary grubbing out of stray bindweed, couchgrass and other thugs, then it will need a few bags of something nourishing, like well rotted stable manure and we're ready for the off. A bit of grass to lie down in - a person needs to be able to lie down in the sun. Surrounded by lovely flowers, foliage, scents, buzzing insects...
I'm going to ask for a budget - we still have two grand left in our account, so I reckon a hundred of that would see me well away. Watch this space...
Today I thought the prompt for the photo a day was 'structure' so I took and posted this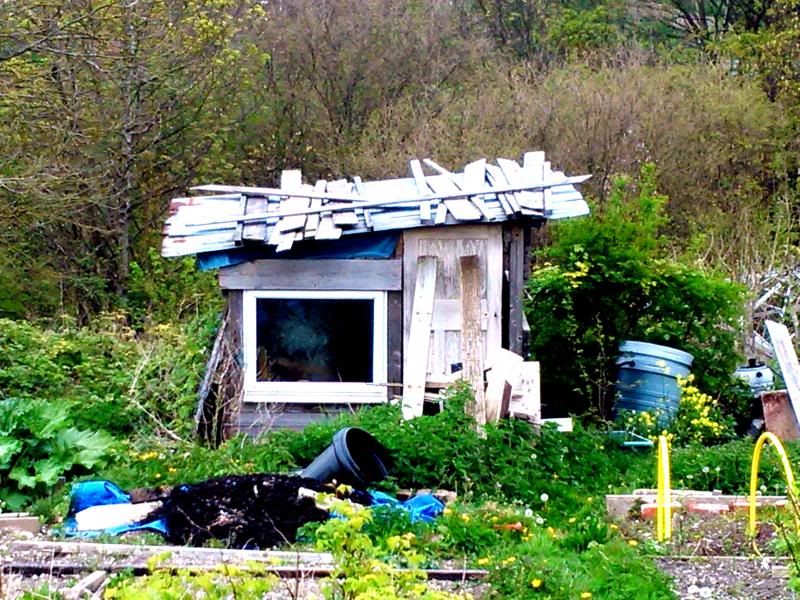 (on a neighbouring allotment), but the actual prompt was 'something I learned'. I have no idea where the thought of 'structure' came from - I can visualise it quite clearly in the right font, against 17 in the poster for April, but it's not there. I hate it when that happens. I remember once having a very mundane dream of a scene in my family kitchen during which the sugar bowl was broken. I only knew I'd dreamt it when I saw the bowl was still there a few days later - it had all the qualities of a memory, but it couldn't have been. The implications for what constitutes reality in my own internal narrative of the story of my life are too horrendous to contemplate, so I won't.
Today I am grateful for: having had this time with GS, despite its painfulness; dinner at the kebab house - yay; good chat with YD this morning; getting my gardener's mojo back; my comfy bed
Sleep tight xxx
11:24 p.m. - 17.04.14

-----------------------------------------------------------------------------------------