annanotbob2's Diaryland Diary
-----------------------------------------------------------------------------------------
Mighty pretty
Happy 90th birthday Doris Day. I know Secret Love is the song, and for good reason, but I expect you've heard a lot of that already today and as a straight(ish) woman, I fell for her as the scruffy misfit:
Today's highlights have been:
1. Man in tree, hacking off branches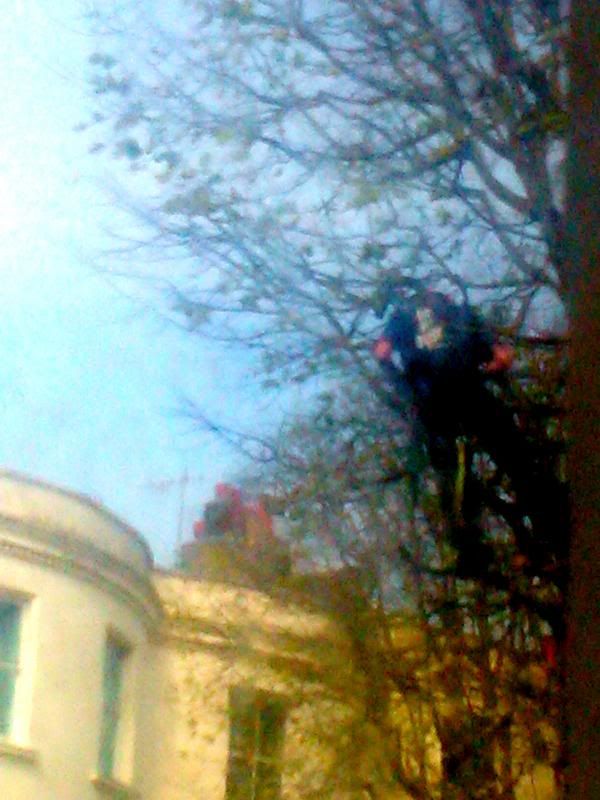 as seen through dirty, salt-encrusted window.
2. Son's mate and mate's dad collecting most of the pile of wood from my back yard to use in making a tree house. With luck this will lead to me feeling less defeated by the effort needed to make a place of beauty out there.
That was it really. I did major resting and a bit of cooking, sadly back to cottage pie as my brain has lost the ability to think much beyond that. Bloke did a small food shop for me, for which I am grateful, but I didn't check for tomato puree and I had none. Cooked up the mixture without it, but ended up going to the co-op in my pyjamas and a hoodie, encouraged by the number of people I've spotted in there wearing night clothes. No one gave a fuck.
I am low and sad and full of pain for my darling girl. Heaving myself into 'good mummy' mode is like changing the course of an ocean liner, and it's just as hard when I get home to shake it off and let myself be.
Tomorrow I will go to singing and all the songs will make me weep and that's probably a good thing. Hour's gap, then acupuncture. Healing and nourishing, that's the way to go.
Today I am grateful for: Bloke, as mentioned; my flat with garden to moan about; the kindness of strangers and friends; milky drink I'm about to take to bed; lighter evenings
Sleep well xxx

1:10 a.m. - 04.04.14

-----------------------------------------------------------------------------------------