annanotbob2's Diaryland Diary
-----------------------------------------------------------------------------------------
Doom
Hard stuff today. Counselling at the MS centre. What I would really like to do is pack up here and go and live close to ED so that I could see her for at least a part of every day while she's here because the unspeakable truth is that we don't know how long she'll be with us in any sense beyond the physical but it could be short so a) let's make it as nice for her as possible and b) can't remember what b) was going to be.
Truth is I have no money - I live within my overdraft facility, or I try to and Sis bails me out every nine months or so, until my teachers' pension lump sum arrives, which probably won't be on the morning of my 60th birthday. The area she lives in is even more expensive than here. I don't know anyone up there who's remotely on my wavelength, I'd lose all my support (GP, counsellors, acupunturist - who is special, friends, family) just at the time I will need it most in my life, if I am to survive. I don't know how I'm to survive any of this.

I'm going up on Thursday, after acupuncture and will stay till she's settled down for the night on Saturday. I'm not going to attempt to express how I'm feeling, in fact now I sit here I can see that I'm channelling all my sense of loss into the fact that I can't find either my pedometer or my mp3 player - I mean, where the fuck are they?
I've succumbed and bought a walking stick. It makes a big difference, especially on hills - talk about bittersweet.
Today's photo prompt was 'one of a kind'. I posted this: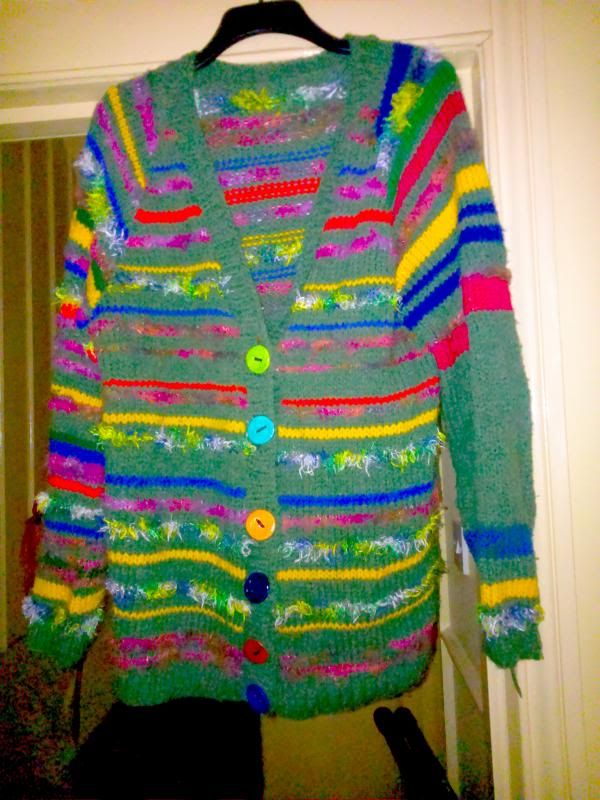 and said this about it : "#24 One of a kind: The Cardigan of Doom - started when I was in the depths of a mental health crisis, worked on whenever I felt unstable over several years, including a while when I went off the stripes and did a bit in plain. I thought I'd never finish it (hence the name), and certainly thought I'd never wear it, but I did and I do!"
It's had 61 likes and 16 comments on the group page - unheard of, but interesting. It's not a great pic, so it's the story people like. Several have expressed surprise/admiration/envy at my ability to make something when in a state, which surprises me.
As does the fact that it's gone 2 am, so I'm offski
Today I am grateful for: the guy I proofread for paying Son cash for the work (instead of vanishing into the ether, which he could have done), which cash Son will use to buy me cheap baccy in Italy; still eating the curry goat, though there's not much meat left; JSing long-term-loaning me a stand for my keyboard so I can have it at the right height; a warm bed; furry slippers
Night night xxx
2:36 a.m. - 25.03.14

-----------------------------------------------------------------------------------------