annanotbob2's Diaryland Diary
-----------------------------------------------------------------------------------------
Made for love
I met the baby today: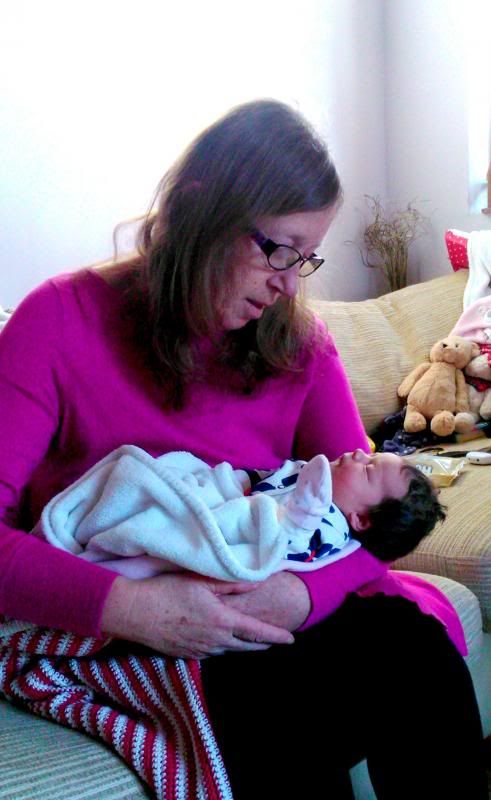 She slept in my arms for a big chunk of the afternoon, while Niece told me her birth story which led into a long meandering chat of births and babies and sleeping through the night - nice and easy for me to slot right into and be an appropriate person for once in this tough old winter. Baby just carried on sleeping: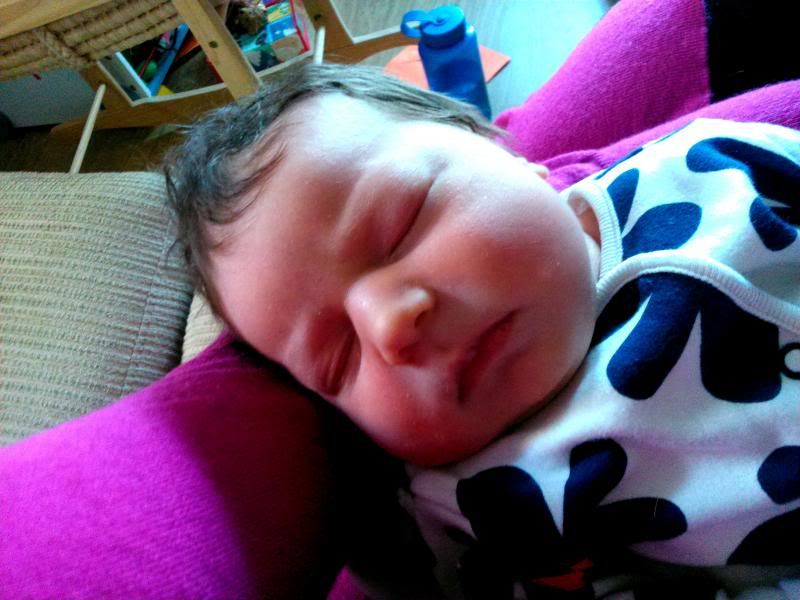 So sweet and so like her sister.
Grandson stepped forward yesterday by taking the tube from its end of the line stop near his home all the way in to central London where YD met him and took him to hers for the first part of half term. He's fourteen and a half - a good age for travelling alone - but we haven't wanted to push him before he was ready. I must say I'll be glad when he can do the whole cross London down here thing and all I have to do is meet or leave him at the station.
I had a call from YD this evening saying she was finding it hard with him for the very first time, he's being a bit surly and rude, which is not surprising - he's very well-behaved everywhere else. They're coming down here on Tuesday for the rest of the week and I feel quite anxious about it [ed: surely not?] as he's arrived at puberty and had his mother put into a home all over the same few months. He was an easy-peasy, hopitty-skipitty, genuine little ray of sunshine for a good twelve years but he couldn't stay that way forever. He has to grow into a man and right now he's bang in the middle, neither child nor adult, so we all have to negotiate our way into new relationships with him. And we have to acknowledge, somehow, that this terrible thing has happened to his mum and to him and to us. As well as have some fun or distraction or larking about. I hope he still likes babies - he's been very keen up till now.
Today I am grateful for: My great-niece in particular and my family in general; a calm, sunny day, even if I didn't get out in it; the energy to cook a proper dinner (lamb shank with rosemary, onions and potatoes - simple flavours, good to eat); a service wash at the launderette - money well spent; a bunch of tulips
Sweet dreams xxx
12:24 a.m. - 17.02.14

-----------------------------------------------------------------------------------------