annanotbob2's Diaryland Diary
-----------------------------------------------------------------------------------------
Don't let the sound of your own wheels drive you crazy
Saw my doctor today who advised me to spend a few days vegged out on valium. Didn't need to today as I went straight from surgery to acupuncture and she did something that erased the possibility of much activity. The place is a tip, which is not conducive to proper chilling out - making a drink has become a major mission, likewise finding clean clothes, but Bloke says he'll come round tomorrow and help me get it straight enough to have a couple of days on pause.
Which I will need because I have somehow volunteered to take ED into London next week, to meet YD and go on the London Eye - and I'm thinking a river cruise which you can get as a deal with Eye tickets - I'll check tomorrow and make sure wheelchairs can get on top deck out in the breeze - out on the river with the wind in your face, has to be a good thing, I reckon. This has been gifted to me/us and with luck will be the last time we'll be constrained by the cost and availability of the taxi - if it is available as I'm waiting for them to get back to me on that.
I've been reading The Casual Vacancy - the first non-Potter Rowling and I have to say it's meeting my current reading needs perfectly, though I'm not yet sure whether I'd go so far as to recommend it. Modern British small town life, slow and steady pace, nothing inspired about the style, but a few characters I want to follow and some I want to see getting their just desserts. Safe.
I am loving the Channel 4 series Educating Yorkshire - a fly-on-the-wall documentary about one school over seven weeks. There's an assistant head (who would probably be a dick if you had to work with him), who likes to find an appropriate soundtrack on his phone for conversations with staff. So when told he's got a right bunch in the isolation unit, he quickly finds the kind of sleazy tune that would be behind the list of prizes on a crap gameshow, "And in isolation tomorrow we have ..." Ah well, it made me laugh.
As did this, which has been going round twitter for days, has finally made it to facebook and which I offer here for those who abhor both:
"America was not shut down properly. Would you like to start America in safe mode, with free health care and without guns? (Recommended)"
Grateful for: Being the recipient of kindness all around; ED being a bit hungry for adventure; having a great niece who collects all her auntie's knickers off the dryer and puts them round her neck: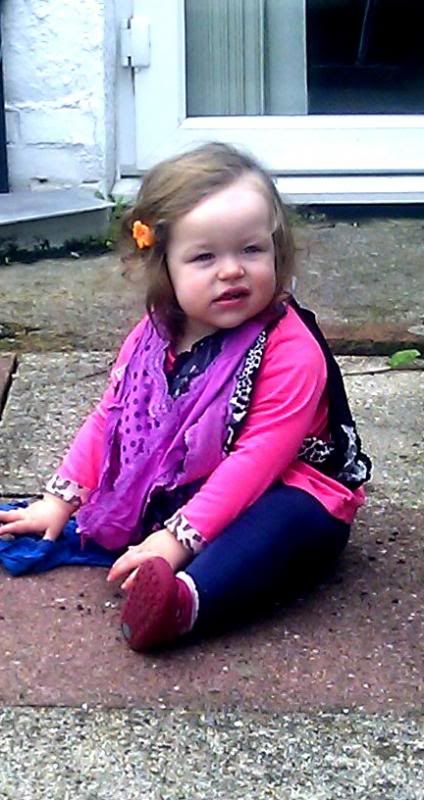 Jmuso bringing me a head of sweetcorn; my GP; milk and honey and a warm bed and a good book
Sleep well xxx
12:25 a.m. - 04.10.13

-----------------------------------------------------------------------------------------