annanotbob2's Diaryland Diary
-----------------------------------------------------------------------------------------
Singing
I did singing. In public. Shock and awe, I tell you.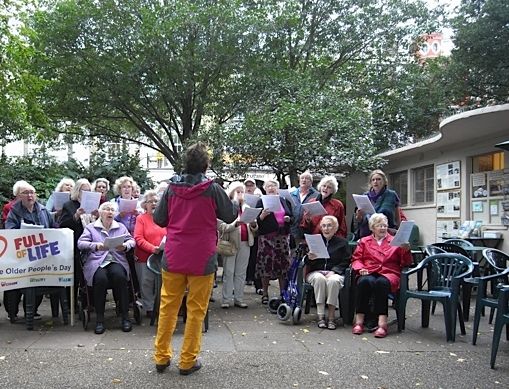 I will always be grateful to Stepfie for pointing out that it's harder to sing quietly, so to have half a chance you have to SING OUT which I do and try and chill and just enjoy it. We were part of old people's day and sang lots of proper old songs like 'We'll meet again', 'I could have danced all night' and 'Love me Tender'.
To be honest I was having to Manage Myself, as it was all pretty much 'feel the fear and do it anyway' so enjoyment didn't come into it much, but if I do it again, it might. There was a definite patronising vibe in the enthusiasm from some quarters of the assembled passers-by, but they can fuck right off, though I didn't say so at the time, nor indicate it with hand gestures or body movements.
I don't really get what's going on in the States with the govt and all, there suddenly seems to be a flood of mis-information and bollocks from politicians and media bastards of all descriptions. I am particularly incensed by the story going round that the unemployed will have to attend jobcentres every day to continue to receive benefits. This may seem reasonable until you consider that a) there are no fucking jobs b) they've shut half the jobcentres so most people are beyond walking distance and will have to catch a bus, the current cost of which, five times a week, will be impossible out of their meagre benefits c) current jobcentre staff see people once a fortnight, or every ten working days, so if they're to come in every day that will need ten times the staff and space, yet they're still being closed down so the whole thing is just fucking bullshit
I am tempted towards nanowrimo again this year, as Son and SDig are both up for it and I remember what a blast I've had in previous years. But there have been other years when I've written myself deeply into The Pit and maybe I'm too close to the edge of the pit right now. Or maybe I just need to have a proper chapter outline of safer silliness.
And suddenly it seems to have become 1.25 am
Laters xx

9:39 p.m. - 01.10.13

-----------------------------------------------------------------------------------------