annanotbob2's Diaryland Diary
-----------------------------------------------------------------------------------------
A bit ranty, a bit horticultural, with pics
I have to say I am crushed with disappointment at Obama's failure to either charge the prisoners in Guantanamo Bay with some crime or let them go. He seemed as if he was going to be a genuine statesman - believe me I have never before been inspired by an American politician, but I felt the world was a safer place with him in charge of the oil-guzzling US. He exuded a sense of fairness, he reeked of decency, so what the fuck is going on? Was I just plain stupid to believe in a just politician in these times or is it that he is in fact powerless to do good, as Bush was powerless to do (too much) harm? I mean, look at the figures [I got this from a petition, though I've seen the numbers elsewhere - I've put a link below]:
"The facts speak for themselves:
• Detainees in Guantanamo now: 166
• Detainees facing active charges: 6
• Detainees cleared for immediate release, but stuck in the camp: 86
• Guantanamo inmates on hunger strike: 103
• Hunger strikers strapped down and force fed: 30
• Prisoners who have died in custody: 9
• Children the US has held at Guantanamo: 21
• Detainees tried in civilian court: 1
• Detainees who can't be tried for lack of evidence or torture: 50
• Prisoners released by the Bush administration: 500+
• Prisoners released by the Obama administration: 72
• Current annual cost to US taxpayers: $150 million
• Days since Obama first pledged to close Gitmo: 1579
• Time since first prisoners arrived at Guantanamo:
11 years, 4 months, 11 days ..."
http://avaaz.org/en/obama_shut_down_gitmo_4/
Those are the sort of things we're told about regimes just before the troops are sent in. We are not the good guys here - locking people up (in a foreign jail) for years on end without ever presenting any evidence against them is wickedness, a crime against humanity, to say nothing of international agreements, a shame upon us all.
So, I'm very disillusioned and even more at a loss as to how things are going to get better.
Other than by growing things:
I did a trip round my favourite plant sellers - got a great deal on strawberries - a whole tray of plants for a fiver: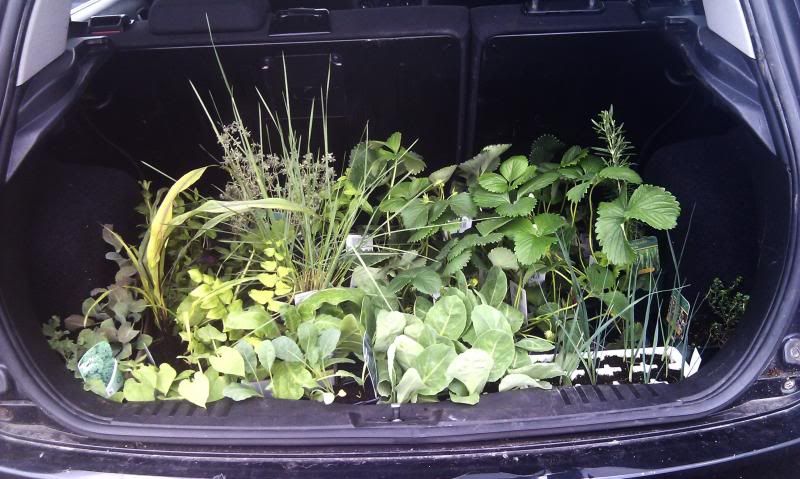 and look at this - our fantasy list, made one cold winter afternoon, all underway apart from spring onions (scallions) which failed to germinate and sweet potatoes which I haven't seen anywhere:
So thrilling to think we may be sorted for fruit and veg. The next task is to make structures to put netting over to stop pigeons eating the brassicas.
I'm thinking these will look nice together in the garden when they've all grown a bit. Those dark splodges on the far left are petunias - amazing colour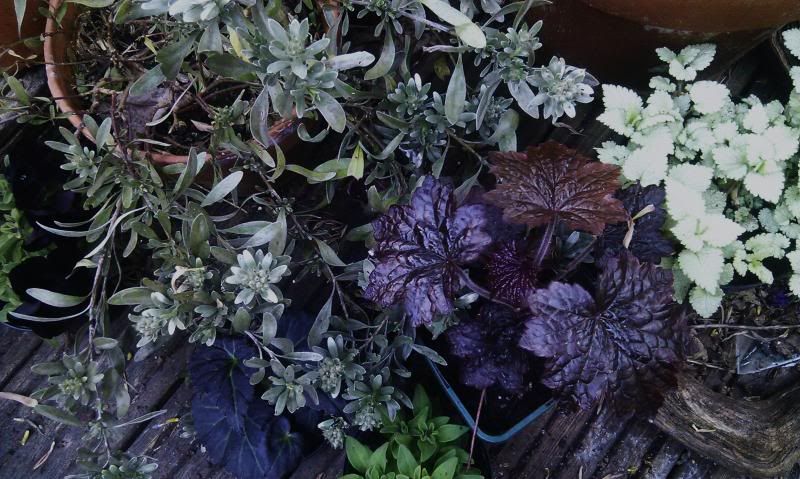 So that's me for today, ranty and horticultural, but full of gratitude for my many blessings.
sweet dreams xxx
9:52 p.m. - 22.05.13

-----------------------------------------------------------------------------------------