annanotbob2's Diaryland Diary
-----------------------------------------------------------------------------------------
rolling on a river
My task on this visit is to accompany YD on excursions outside of her home, both to remind her that it's OK being out and to enable BF to rest a bit as he is totally knackered. This has been a tough episode and he's been brilliant over a sustained period but now he needs to lie down on his own.
As mentioned a few posts ago, discovering that she doesn't HAVE to complete her degree this summer has reconnected YD to her work and what that work required today was footage of people taking photos, especially en masse. So, to Greenwich Market for takeaway lunch (goat curry, very nice):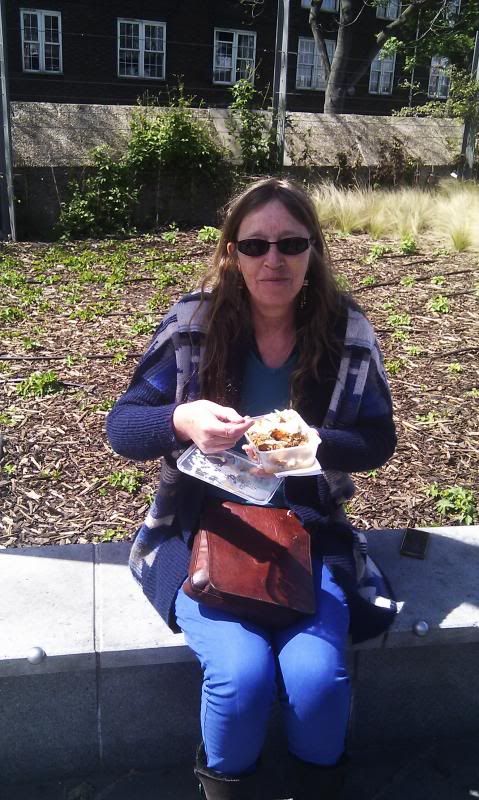 then on a boat down the river
where she got loads of great film and I became confused as the Shard seemed to keep changing sides - apparently we were travelling on that tight meander the Thames does that comes up on the Eastenders titles, but I still can't quite follow it through in my mind.
We fetched up at Tower Bridge and the Shard in the wrong place again, I think (YD's just come in and told me it's south of the river, very exhausted with my still not having that fixed, but I will now that I've written it down):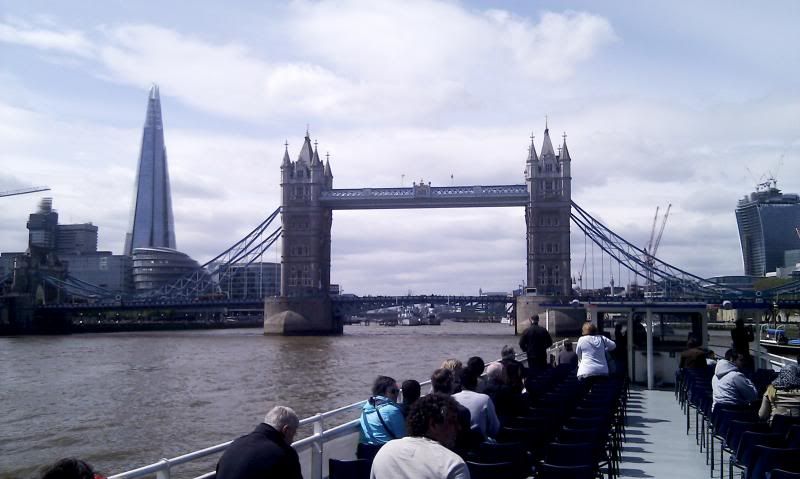 A boat passed us with 'cutting through complexity' writ large on it's side, which I thought was dead wanky bollocks of the most irritating kind until we missed the last boat back and had to catch a series of buses. It's still wank, but it's true - and how lovely to sit on deck with the wind in your hair, lovely and unexpected - I forget I'm good at new stuff, so long as nothing much is demanded of me I calm right down when I'm out of my normal habitat. Which is apparently a feature of having your moon in Sagittarius.
It was cool mooching about on Tower Bridge watching YD watching people taking photos. Some are snapping the sights, others are snapping each other posed in front of the sights - they're the best. Hardly anyone just looking. Locals on their way over the river don't seem to notice the surroundings; everyone else has a camera. YD was holding her phone in front of her walking in amongst them all - I can't wait to see what she does with it.
I liked being somewhere new buildings were occupying the same visual space as really old ones. I mean you see the Shard and the Gherkin popping into view all the time, wherever you are (it seems from here), but not behind the Tower of London: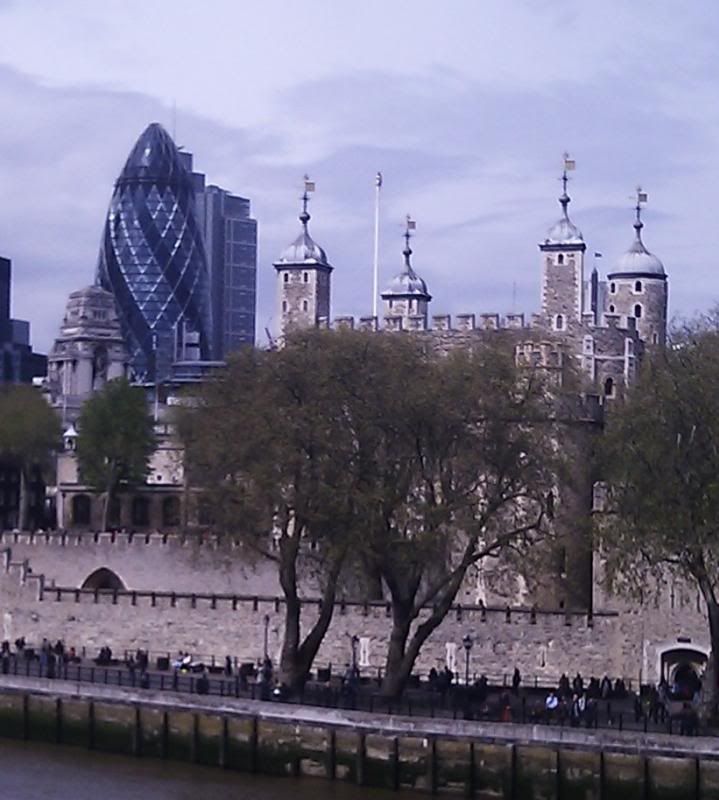 Before my kids moved here I'd hardly ever been to London, despite having lived an hour away for almost forty years, hence my somewhat naive, touristy response, I suppose.
After all that we went to look at some art in Whitechapel, once we'd fortified ourselves and eaten the chocolate things before I could take a pic: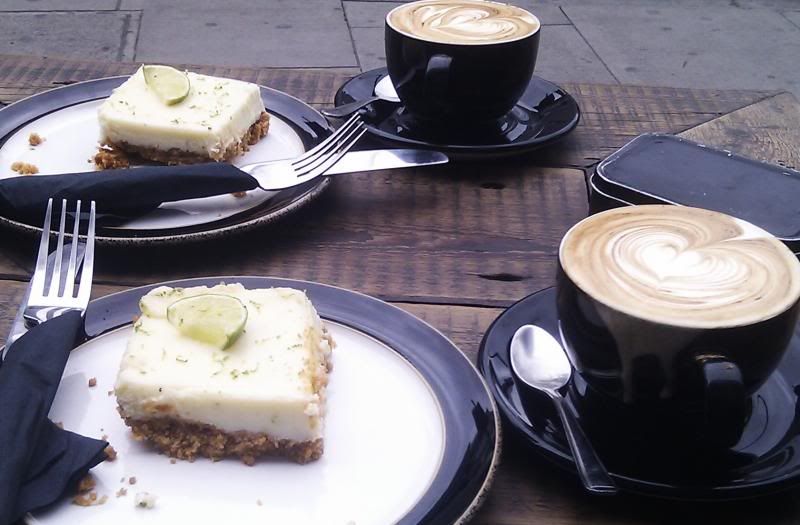 We were cool, me and YD. Not cool like the hipsters in the gallery, but relaxed, easy, mellow. And tired, so we sat and watched a film about the making of these golden leaves and branches, which turned out to be on the front of the gallery, attributed to the artist though we had only seen dozens of other people doing all the making.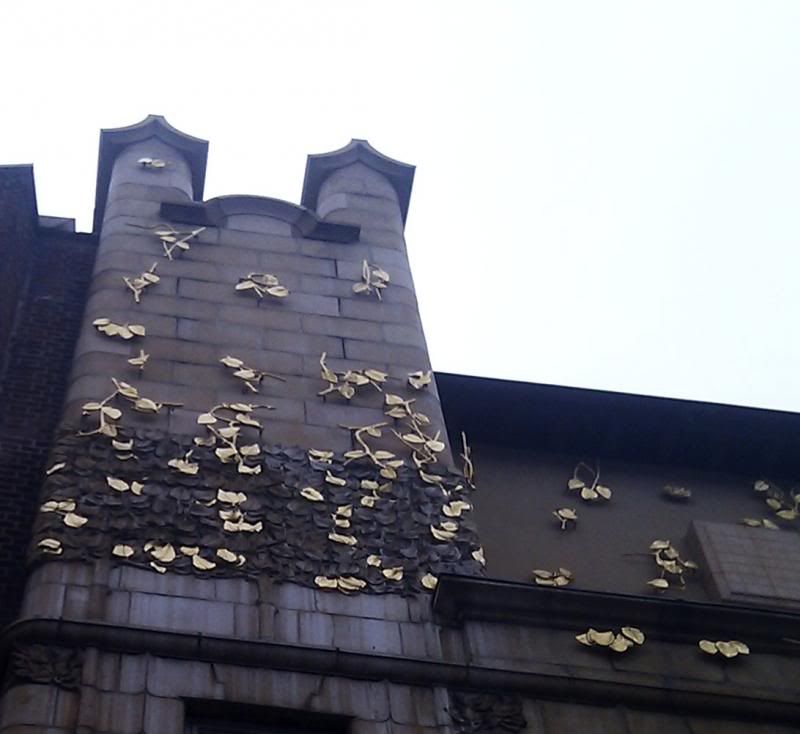 So it's been a good day, much better than I anticipated but I am missing the allotment.
Grateful for: a good day; a daughter who understands London bus routes; Son being in a good place; a comfy bed; looking forward to Glasto
Sweet dreams xxx
11:34 p.m. - 12.05.13

-----------------------------------------------------------------------------------------