annanotbob2's Diaryland Diary
-----------------------------------------------------------------------------------------
Back at the seaside
Home again, thank fucking christ. I'm all scrunched up where I've held the tension in my jaw and neck but heigh ho, I'm home again and all's well. YD and I had a useful series of chats about the specific triggers that had unleashed this last crisis, and she seems to feel a bit safer now. She had me go over to her studio and collect her work - look, it's me having a post-partum, guilt-free fag, wee Son in my arms not half an hour old: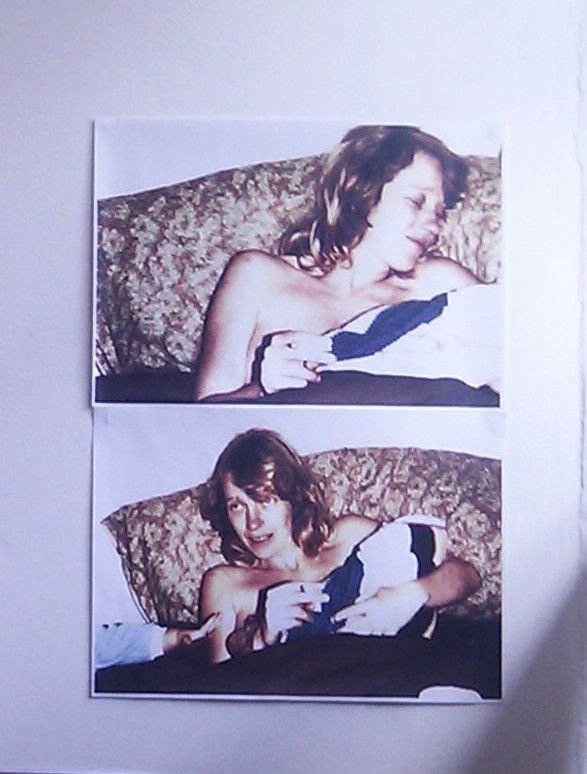 and she seemed quite enthusiastic about it again, making a giant umbilical cord out of a horrible scarf I knitted her. I know, it's all a bit intense, this mother/daughter thing, but we are both officially mental and trying to work it through the best we can.
So I'm home, with my wee scabby cat, and pleased to be here. I had planned to take this week very steady and go to ED's for a few days next week, but I don't think I have it in me, unless I have a seriously restorative time first.
I just had a pause to imagine what a restorative time would involve and can see that the big stumbling block is food. Part of feeling properly grounded comes from eating real, fresh food and I've found that very difficult recently, starting with planning a few days worth of food, then buying the ingredients. I do feel I could wander into the kitchen and cook, if everything was there, but it won't appear on its own and right now every one of my potential helpers is going through their own version of stress overload, so I need to knuckle down and make a menu, do a shop. I have a yearning for homemade fishcakes, so that's a start.
And there's singing. I took pics last week, with the group's permission: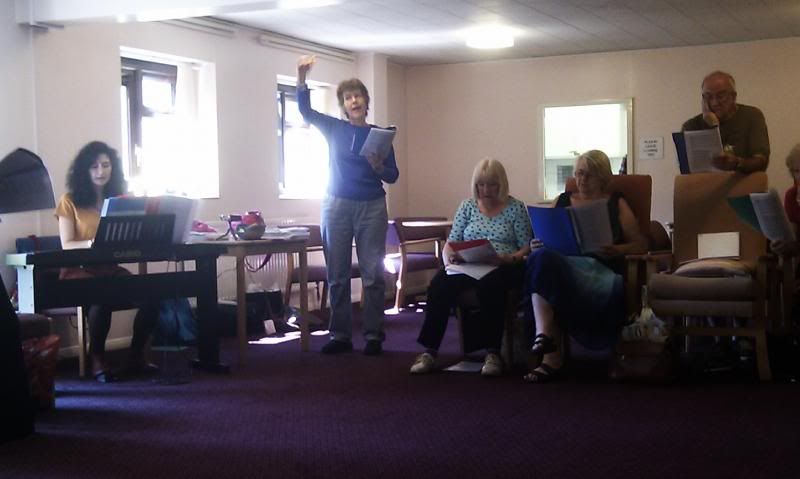 There's another pic with me in but I realised to my horror that I'm still wearing the same shirt and that's a whole week - I did change for YD's party, and I did know I'd been wearing it too long, but bloody hell, a whole week. I rushed off to London with my suitcase, but forgot to put any clothes in it - I knew the bloody shirt needed washing before then but was sunk in a funk where all I could do was put the same clothes on every day. In my favour, I'd like to point out that I'm very green as I use so little water.
OK, bed now.

Grateful for: Holding my nerve on the way home; TinyM doing Bob-minding while I was gone and running the Hoover round while she was here; YD perking up a bit; lots of rain so my garden is still alive; my beautiful bed, calling me...
Sweet dreams xxx
11:37 p.m. - 09.05.13

-----------------------------------------------------------------------------------------