annanotbob2's Diaryland Diary
-----------------------------------------------------------------------------------------
Back to life, back to reality
Feeling a bit perkier today, thank fuck. Had a nice interaction with ED - we've had a lot of chats over the last few weeks where she's been fed up at being sat in her chair at home waiting all the time, waiting for something, anything to happen. She's forgotten that she can get outside and has always had a reason not to try it right then, when we're on the phone. Same again today, she rang while I was walking home from acupuncture, again I reminded her that she can do it, we talked about what she was scared would happen if she tried and agreed that I'd call from home - she can put it on speaker-phone and I can talk her through it, at least while she goes down the ramp and along the narrow, uneven path. But by the time I reached home there was a message on my answering machine from an exhilarated ED who had just fucking done it, made her way right down to the car park and back - breathing in the fresh country air, pumping the blood through her system as she wheeled herself along, bumping into neighbours who stopped for a chat and generally cheering herself right up.
Here are my best pics from the last week or so - mainly allotment as that's the only place I've been, but thank fuck for the allotment which brings me and SDig untold joy, no matter how much other shit there is.
Misty day closing us in, hiding the hills: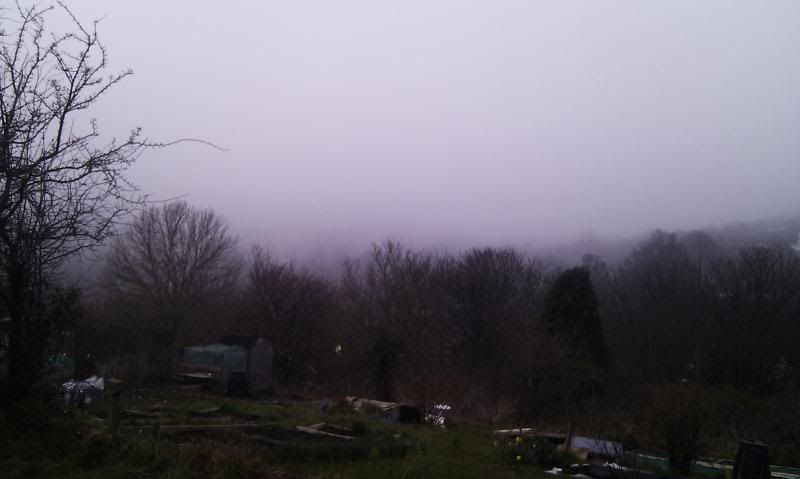 Spring springing in my garden: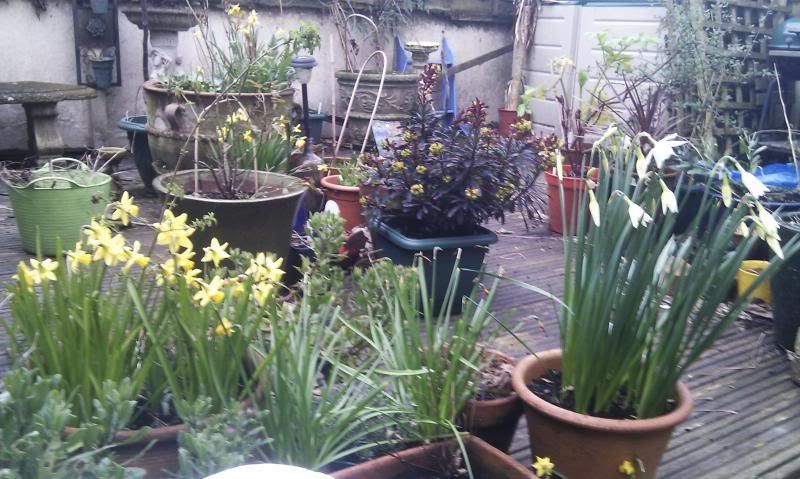 Lettuce and rocket: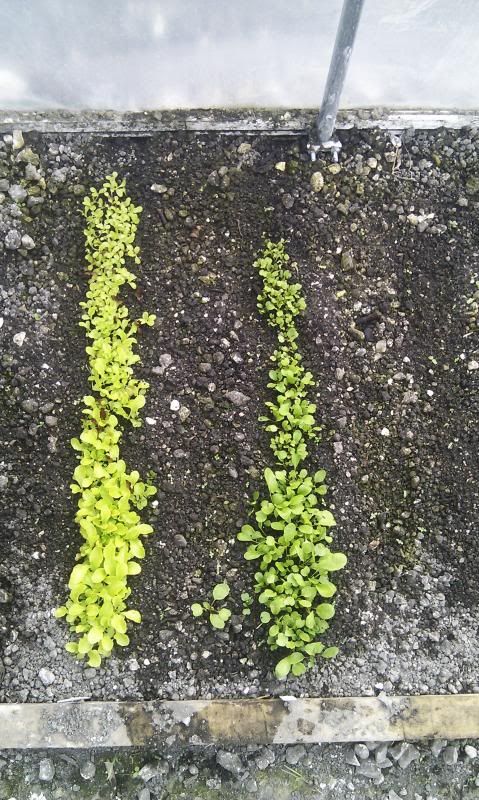 Sundown:
And here's the first sketch I've done for ages - I struggle with the uphill thing and also how to show the difference between the soil in the beds, which is freshly dug, uneven, grainy, and the compacted soil on the paths. I want to do more, lots more, and get really better at it.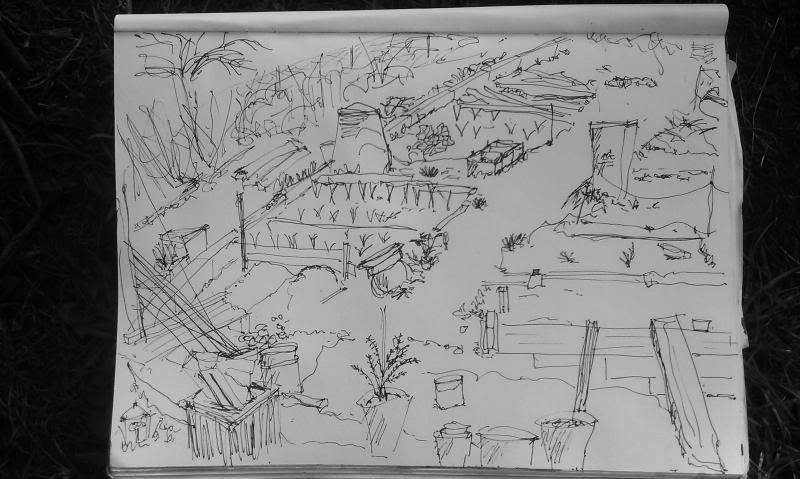 Now I have to go and watch another couple of episodes of The Wire. Season 3 - shocking in so many ways. I still have the hots for Daniels, wrong on so many counts, and Wee Bey, which is even worse.
Grateful for: Being able to grow things; spring - new beginnings etc etc; TinyM mending my PC by the usual method - turning it all on and off at the wall, which I had forgotten to try; feeling a bit better; having YD's dissertation arrive in my inbox (subject: disser-bloody-tation) to proof-read. All good.
Sweet dreams xxx
11:59 p.m. - 22.04.13

-----------------------------------------------------------------------------------------