annanotbob2's Diaryland Diary
-----------------------------------------------------------------------------------------
From the bottom to the top
Better day today, first in a while.
Using every last scrap of willpower and determination, I put a load of washing on and then hung it on the line in the windy sunshine, which made me as happy as a fictional 50s housewife. Weird, huh?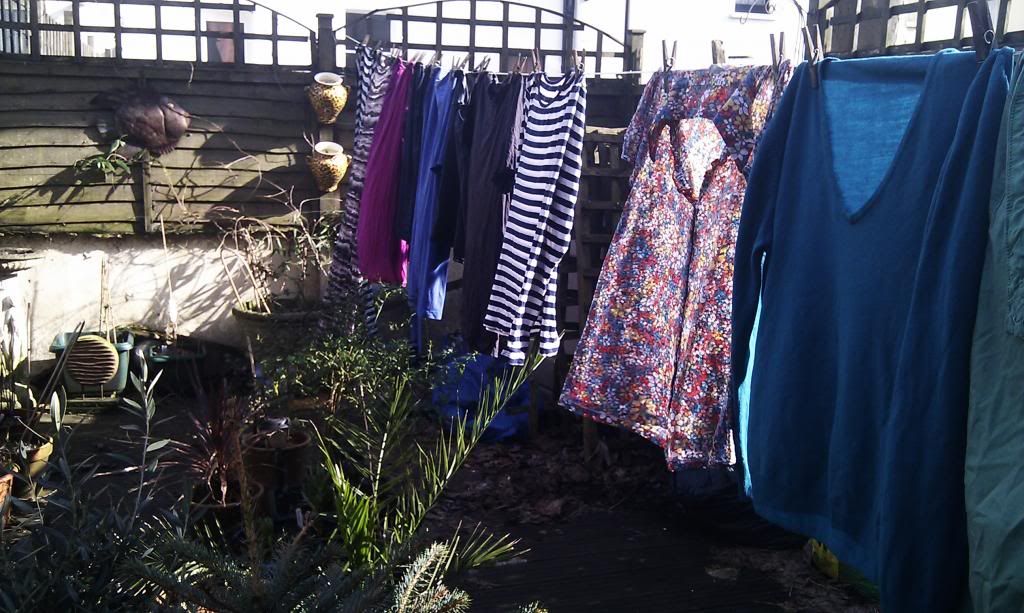 Though there is something cheering, invigorating even, about the smell of proper line-dried washing.
I read a short story to ED over the phone. Setting her up to be self-sufficient in her reading/listening needs is currently defeating me, though I have now been directed to the RNIB's services, so it's not over just yet. I was awake till the small hours, demented over the choice of story, mental. In the end I went for Roald Dahl - not a very inspired choice, but kind of safe and comforting. She was dead happy, so I'm now booked for a story on days when she's stuck indoors alone. All good.
If any of you have any favourite short stories, do tell and I'll get them from the library. It's not my favourite form - I like to get stuck into a world and dwell for a while, rather than to flit through. Though I might attempt some Steinbeck - the full audiobook of 'Of Mice and Men' only lasts two hours so we could do that in two or three days. Hmm.
So I'm being quite teacherly, what with that and giving YD feedback on her dissertation. Oh yes, Notbob takes on Lacan and Irigaray, without a safety net! Roll up, roll up!
For the second time in two days I have done my big walk in a westerly direction along the seafront. On neither occasion did I notice that the usual southwesterly wind had veered right round to easterly until I turned for home and had to walk into it.
I'm going to try and take some kind of pic at the turning point of my walk each day - as I wrote that I realised that some walks are circular, so just a pic, aiming at something new each day. Here's today's:
The shuffle on the mp3 player kept coming back to Joan Armatrading, which is pretty cool:
8934 steps so far today, but it'll go over 9k by the time I've faffed my way to bed. I've still not hit the desired 10,000 which is my aim for a regular, five days a week distance, but I'm getting there. I may do some walking in London on Sunday when I'm up at ED's.
I'm so sorry for not replying to your comments recently - I find myself overwhelmed with emotion and spewing out miles of ghastly sentimental bollocks, which none of us need, frankly.
Sleep tight, dear peeps xxx
11:57 p.m. - 04.03.13

-----------------------------------------------------------------------------------------