annanotbob2's Diaryland Diary
-----------------------------------------------------------------------------------------
Thrilling, darlings, just thrilling
Meme. Due to continuation of feeling like death on toast.
What side of the heart do you draw first?
Right. I have a feeling this is not going to be fascinating. Permission to leave now is granted to all readers, but I will keep going for the nonce.
Can you dive without plugging your nose?
Yes.
I can think of no elaboration on that response.
What colour is your razor?
Don't have one, never had one. It seems clear to me that adults are hairy and children are not, so there's something well dodgy about women shaving. I love my hairy armpits and legs and am growing fonder of my beard.
What is your blood-type?
Jesus, I don't know. One of the medium-rare ones, but I can't remember which.
Who would you want to be tied to for 24 hours?
Possibly Michael Gove (Minister for fucking up Education), to see if I could knock some sense into him (verbally not physically), or Amy Bloom, fabulous author, or H, my ex CPN and she could talk some sense back into me.
What is a rumour someone has spread about you?
When I was teaching there was a rumour that I was a lesbian, presumably based either on my lack of "feminine" tomfoolery (see above) and sensible shoes, or my persistent refusal to allow any homophobic shite in my classroom.
How do you feel about carrots?
Carrots. Good question, obviously. I have a range of feelings about carrots. I feel a certain sadness that I didn't eat roasted carrots until a few years ago, also pride in how delicious they are cooked in my usual way (slice, put in pan with small amount of water, pinch of sugar, salt and pepper, knob of butter and handful of chopped parsley). I feel grateful for their contribution to bringing up healthy kids when skint as arseholes (carrot soup).
How many chairs at the dining room table?
No dining room, but four chairs round the table.
Which is the best Spice Girl?
Best in which respect? There have been moments when I have enjoyed the frankness of Scary.
Do you know what time it is?
No.
Do you know all the words to the Fresh Prince Theme Song?
I can sing along, but from here I don't know where to start.
What would you do if you were stuck in an elevator?
The only time this happened to me was when the kids were little, Son in a buggy, YD and her friend clinging to my legs. We sang loudly.
What's your favorite kind of gum?
Yuck, none.
All's fair in love and war?
Well, war isn't fair at all and I'm not getting started on love.
Do you have a crush on anyone?
No, I'm depressed, don't care much about anything
Do you know how to use some words correctly, but not know the meaning?
That seems to be either an oxymoron or unknowable. Or both.
Do you like to sleep?
YES YES YES YES YES.
Do you know which U.S. states don't use Daylight Savings time?
I did a while ago, when I copied this meme, but it's been deleted from memory as unlikely to be useful at any point ever, but look, I need it already.
Do you know the words to the song "Total Eclipse of the Heart"?
Again, I can sing along once it's started. Come on, I know you want to
Do you want a bright yellow '06 Mustang?
Er, no. Though a yellow car scores a point on the Granny and GS driving game, but a yellow Mini is two points (I find myself yelling, "Two points!" whenever I see one, no matter who's in the car), so I'd rather have one of those. But there's no room for camping gear in a Mini so I'll just pass.
On a happier note, look: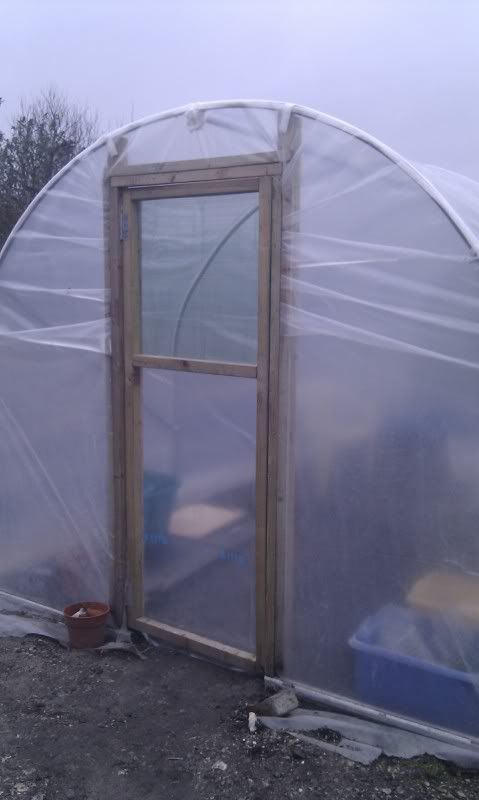 We've put the plastic in the doors on the polytunnel. Woo and indeed hoo.
Laters xxx
8:12 p.m. - 08.01.13

-----------------------------------------------------------------------------------------