annanotbob2's Diaryland Diary
-----------------------------------------------------------------------------------------
In the comfort of my own narcolepsy
Ha. I just spotted the first adverts, here on diaryland, the BBC of blogging. Not pleased, but I'll probably stay as it feels cosy on here.
Not so great today, probably because I spoke to ED for the first time in a few days and now fear that my feeling of peace may have been due to having pushed her right to the back of my mind. No, that's not entirely true, but I don't know how to find a balance between my needs and hers.
Which I am not thinking about right now - I'm - shit I just noticed the time - how can it be this fucking late? It feels about ten, ten thirty.
Anyway, what I wanted to say tonight was that despite this not being a great day in terms of anxiety, it has been good in how I've scaled down my expectations with (in my opinion) sense and good cheer.
I bought a whole lot of fresh food, but too late in the day. I'd only had a bit of toast so was really hungry, bought a sandwich, then keeled over and couldn't get it together to cook. I kept walking into the kitchen, looking at the washing up and walking back out again.
But. I decided to stop giving myself a hard time over it - if I can't do it, then I can't. Who cares? I went down the road at about half nine and got a nice tray of chicken wings, salad and flatbread from the kebab shop, and managed to get a pic for today's photo challenge, which was work/play. Some of these topics bite me in the bum and I never see them coming. All day I was fighting off the glooms over the fact that I don't work and I hardly ever play (boo hoo poor me etc), but that is not true because I'm seeing the Alabama 3 this very weekend and I felt a lot of pleasure in snapping this shot, even though it's not very clear: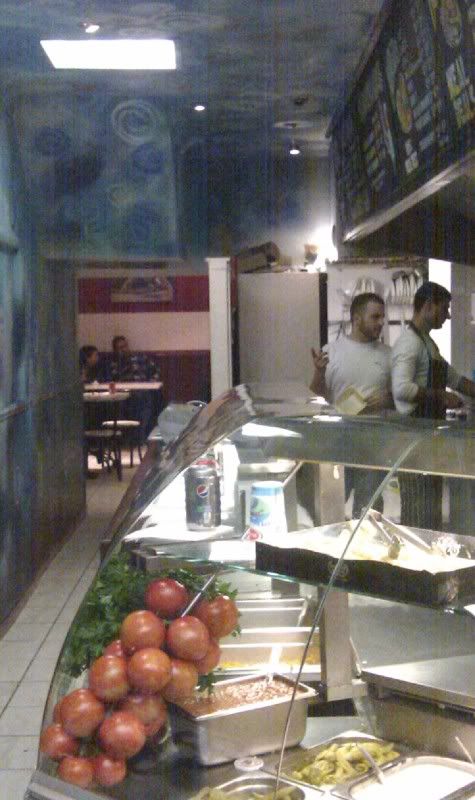 Grateful for: living just up the road from a good kebab shop; finding a gig to go and dance at amongst other old gits, the anticipation of which is making me very happy, especially when I listen to them; youtube - man how amazing to be able to call up any tune you want, right there and then; my boy is coming for the weekend; acupuncture tomorrow.
Didn't take the citalopram this morning. Gonna go for broke and see what I can be like without meds. I'll come off the zopiclone in a bit if this goes well. If it doesn't, I'll take the duloxetine.
Sweet dreams xx
1:13 a.m. - 21.11.12

-----------------------------------------------------------------------------------------