annanotbob2's Diaryland Diary
-----------------------------------------------------------------------------------------
Om
Much better today. I've had awful tooth-ache from grinding my teeth these last few days, until I remembered the mouth guard I'd been given by the dentist all those years ago. Two nights with that and two mornings without waking up mid-shame/guilt-inducing nightmare. Gives a whole new complexion to the day.
Did some yoga, went for a walk. Wrote a big boo-hoo to a woman on the MS site who'd messaged me asking if I was OK and to get it off my chest if I wasn't. Realise what I need in my life is a big hug from someone who says, "It'll all be OK." Quite often, preferably. Unlucky, at least about that.
But the yoga was good. My phone kept bleeping while I was practising, as texts kept arriving. This is so unusual I had to have a look. YD had had her benefits reinstated, for the year she was off college and in and out of hospital - quite a large amount, a year's worth in one big sum. (Actually, it depends how you look at it. It's big as a lump sum out of the blue, but fucking criminal as a year's income.) She sent me ten per cent, like the little poppet she is (that's the rule - give away ten per cent), just as I was starting to really panic about such things as buying petrol.
I finished the yoga session after our chat, including the full relaxation at the end, and felt calm enough to go and have a coffee and read my book (still Wally Lamb), at the nice middle eastern cafe down the road and not feel guilty about spending money I don't have: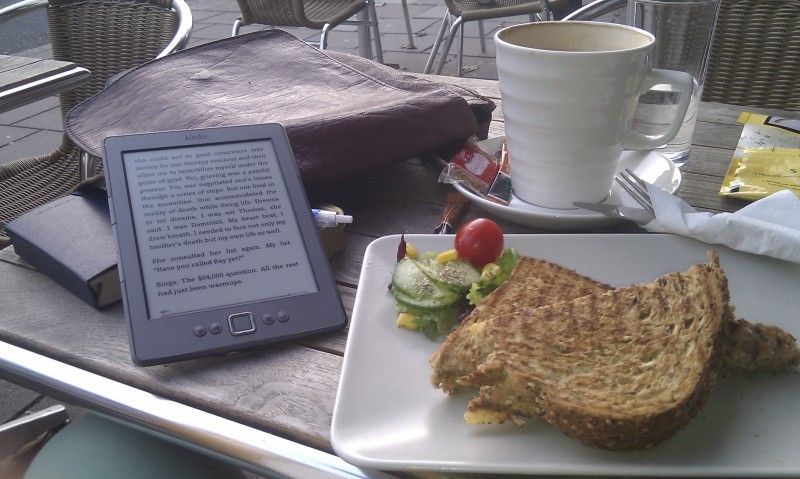 My camera died, which is a bit of a pisser as not only did I like it, but I bought it in Syracuse, NY, when I stayed with Barb, so that makes it a bit special. Mustn't grumble though, as the one on my phone is probably just as good. The pics look the same to me, once I've got them on the pc.
Down to the beach for today's pic - weather: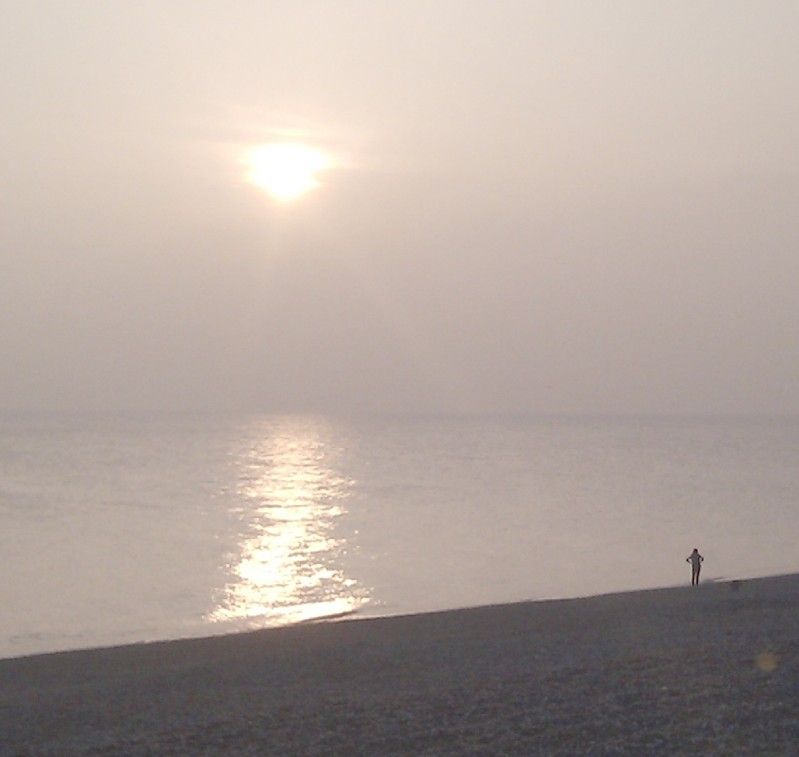 and home for loads more chats with YD about all sorts of things, checking my bank balance again - it really is in credit, not much, but but but I'm out of the overdraft again, thank fuck and om gum ganapatayei namaha and curry delivered for dinner. Oh yeah.
I am inordinately proud and touched to hear that la-the-sage's son named his kitten after me.
Tomorrow I shall have another attempt at joining the art club, but no pressure. A bit more yoga, but not a full session. We'll see how it goes. Small steps, low expectations.
Grateful for: feeling the love; a yoga CD; living on the coast; leftovers for tomorrow's dinner; YD sharing her thinking with me
Sweet dreams xxx
9:59 p.m. - 24.10.12

-----------------------------------------------------------------------------------------