annanotbob2's Diaryland Diary
-----------------------------------------------------------------------------------------
Still seaching
Today's topic was writing and I meant to get YD to take a pic of me in action but forgot and now she's asleep. So here's one of my bookcases instead:
I was quite tempted by this: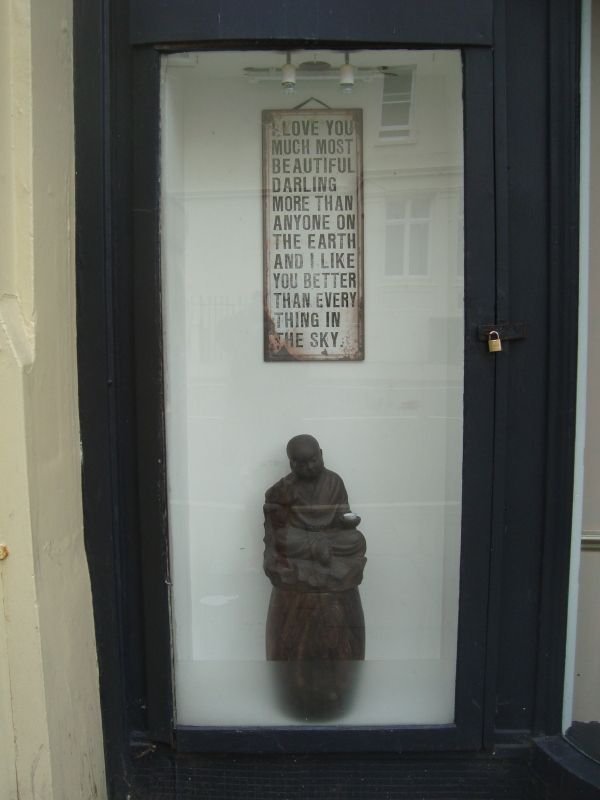 as I like those first few words 'I love you much'
but in the end I can never choose favourite writing so thought it would be best to get a whole load in.
I am still numb emotionally, in a pleasant drug-induced manner, but have a touch more energy. YD and I went on a serious hunt for the geocache nearest my home, including walking repeatedly all round this park, both inside and out:
but the we couldn't be sure of anything beyond the fact that it's in the park (or was a couple of days ago, when some other fucker found it) and the clue is 'wooden bench'. Well. There are metal benches that look like wood from a distance and there are plastic faux-wood benches. In amongst a grove of trees are some upturned logs arranged as a table and stools, which are wood, but not benches.
We got well spliffed up before we set out, and I put a flower in my hair and wrapped myself in a massive shawl, to get in the spirit, but we still didn't find the cache. That's a big place to look for a film cannister. We scrabbled around in bushes, sauntered nonchalantly from bench to bench and sat on the sawn-off logs in the middle of a big Spanish-speaking family picnic. Nada.
Still, manana is another dia, n'est-ce pas?
And we found these bikes, going back to nature:
12:45 a.m. - 07.08.12

-----------------------------------------------------------------------------------------