annanotbob2's Diaryland Diary
-----------------------------------------------------------------------------------------
Rain, rain, go away
There's some wistful jazz drifting up from the flat below. What with that and the rain, it feels like being in an indie film.
Scene. Night. A large, high ceilinged room. Bookcases, a red rug, a red sofa dimly visible. The only light is over a dusty computer squeezed into a corner by the window, where a scruffy old woman smoking a fat marijuana cigarette is hunched over the keyboard, typing with two fingers. Jazz is playing in the distance. The rain lashes down.
Sadly, all that happens next is that she stares into space for almost an hour (shit!). Her mind is ricocheting all over the place, but it's not great viewing.
My mind kept coming back to that line from Raymond Chandler, "When in doubt, have a man come through the door with a gun in his hand," but I didn't fancy exploring that. Unless he's delivering it...
Anyway. Woken by landlord texting to say he's getting me a new washing machine - such a nice landlord. Then did morning pages, which I'm starting again in attempt to clear all the shit out of my head. (You have a notebook and pen to hand so that as soon as you wake, you write three sides, without stopping, about whatever. If you run out of stuff to say, you write that until a thought comes. No worries about spelling, grammar, anything. And you don't read it for at least three months.) It's fantastic at sorting out what's really going on and getting you moving in the right direction and all kinds of other benefits.
These are my two favourite plants today - first an eryngium, glowing through the gloom: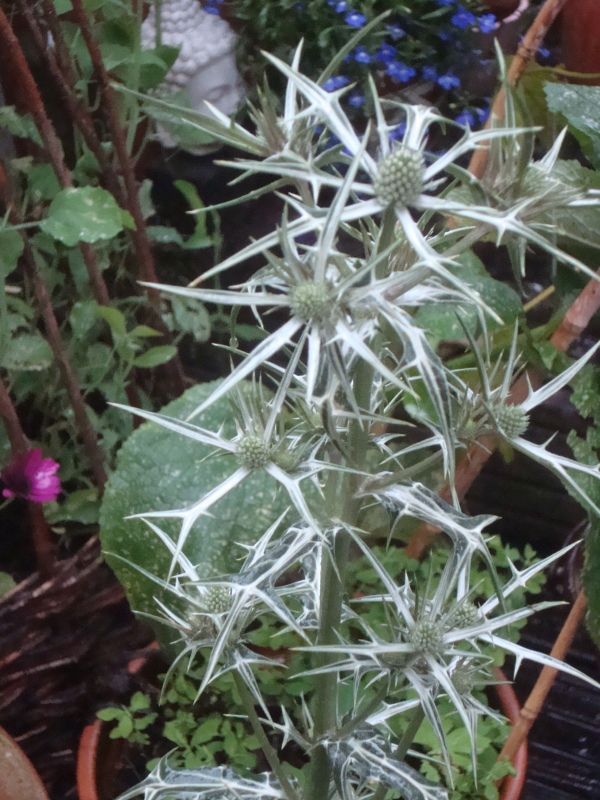 and these, whose name escapes me, but they're good and big and look how those leaves bounce right back up between downpours:
Laters x
12:08 a.m. - 13.07.12

-----------------------------------------------------------------------------------------