annanotbob2's Diaryland Diary
-----------------------------------------------------------------------------------------
Walking on sunshine (I wish)
There's too much intense emotion swirling around.
Teetering on the edge of the pit.
ED called, hysterical, she'd forgotten what MS is - thought she was being lazy - tried to walk across the room, fell, forgot about her alarm pendant, crawled to the phone, taking forever, called next door and somehow missed her neurologist appointment. I don't know, I can't even remember what happened.
I went straight into sensible, action mode at the time, let her rant and ramble for a while, reasoned with her, tried to reassure her, eventually got her to put the call on speaker phone and talked her through a mindfulness meditation, though I didn't signal it as that.
I just spoke calmly and slowly, saying, "Breathe in, slowly... in, in... and out, slowly, all the way.. and again... feel the air as it comes in through your nose, feel your lungs filling... and emptying, feel the air on it's way out. Now feel your skin - your hands and face in the air, your feet in their socks," on and on like that, the sounds in the room and outside. It's good stuff, calmed her down then and calmed me down now, writing it.
Apart from that the rain was torrential, relentless, ridiculous, tedious, dispiriting and depressing. Tomorrow's forecast is for heavy rain from 10am till 7pm. There was a bit of dappled sunlight late this afternoon: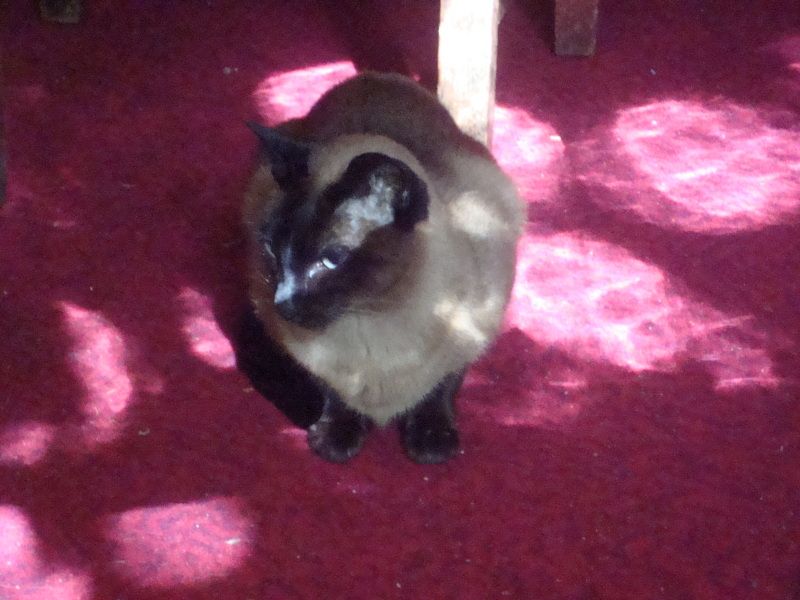 Yeah, yeah, I'll hoover soon.
11:31 p.m. - 11.07.12

-----------------------------------------------------------------------------------------