annanotbob2's Diaryland Diary
-----------------------------------------------------------------------------------------
Summer breeze makes me feel fine
Since I got back the weather has changed - suddenly it's warm, woo hoo! So it's been all about the garden and the allotment. I've been only doing what I want to do, and it turns out that does include pushing a wheelbarrow full of compost up a bumpy hill, but not cooking.
Bad news is that while I was away the tree in next door's garden fully leafed up, throwing my whole space into shade, apart from a few shafts of early morning and late afternoon sun. I don't mind that much, as I'm better in the shade, but it does restrict still further the plants that will thrive. Not only must they live in containers, but they must love the shade, and I don't know how many will fit that bill.
I'm trying to live economically and keep my last few hundred quid of savings for emergencies, but it's going to be tricky. I only went to the garden centre for a tray or two of white busy lizzies, but I saw all sorts of things... Which would be fine, but now I have to get containers and compost for them. Ah well. I don't really care, just feel that I ought to.
This afternoon SC and I took all the spent compost from my pots up to the allotment. Theoretically, it's a community allotment, but it's been left to her to set it up. She's done brilliantly, on a sloping site, thick with brambles eighteen months ago: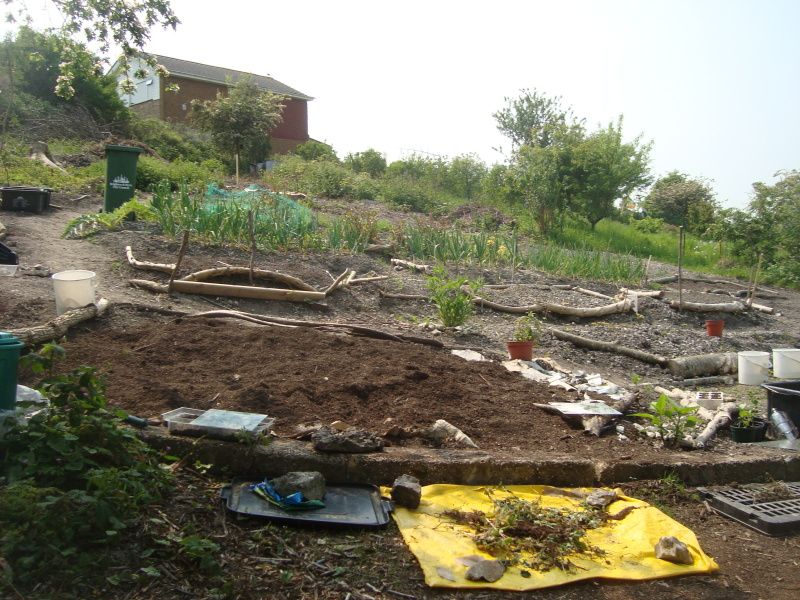 I feel ready to get more involved now, especially as no food plants will grow without direct sun (thinks - maybe rhubarb?), so it's there or nowhere. I just checked and it's not too late to start some runner beans, which long suffering term readers may know are my ultimate favourite veg - not those stringy, limp monstrosities from shops, but those picked at a reasonable size and eaten the same day. God, my mouth is literally watering at the thought. One of the best summer meals is homemade cheesy fritters (aka Glamorgan sausages - dead easy) with, fresh from the earth that day, new potatoes, runner beans and proper, flavour-rich tomatoes.
There's loads more, but who cares? I'm for bed.
Grateful for: the soft, warm air; friends; YD due to visit tomorrow; feeling optimistic; living in a beautiful place.
Sweet dreams xxx
11:00 p.m. - 23.05.12

-----------------------------------------------------------------------------------------