annanotbob2's Diaryland Diary
-----------------------------------------------------------------------------------------
With pics
When I look at the little white box on the screen, all my weariness comes to the surface, but it hasn't all been about weariness. I do really, really wish I had someone I could lean on, someone older, wiser and steadier than me, someone who wasn't already ground down with problems of their own.
On the plus side, we have stuck to cooking from scratch, though to be honest over the last few days the amount of easter chocolate consumed has negated the sense of physical well-being. But we've eaten it all now, so tomorrow should see an improvement. Bloke has been helping out with food. Tonight he made a risotto after I made a stock from the chicken carcass and a few bits of veg (an onion, unpeeled, a fat clove of garlic, the stalks from a bunch of parsley and some peppercorns, cover with water, simmer for an hour, strain):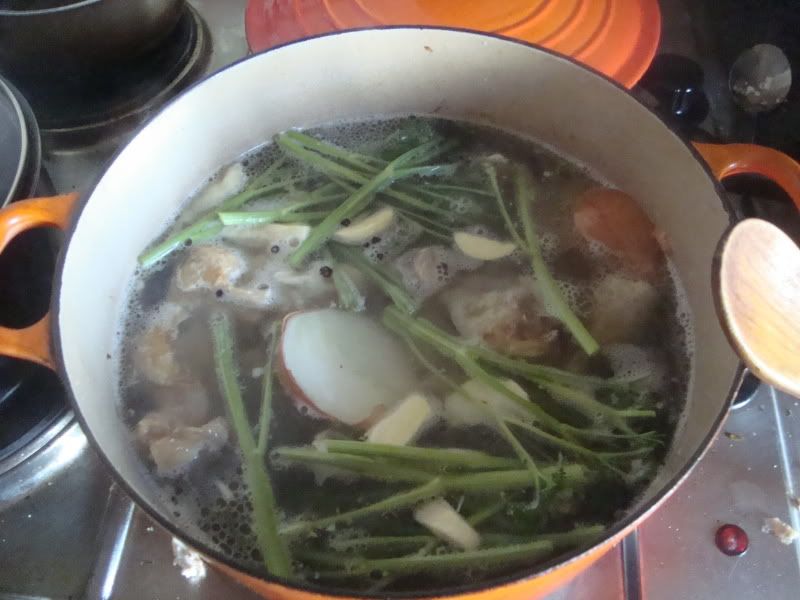 The very smell of stock simmering on the hob is healing and calming, don't you think? It's like feeling the earth beneath my feet again. It didn't last long, but while it was there I took some pics in the garden. The buds on this peony are a source of comfort and joy every time I look at them, growing so strong and fat:
I have never in my gardening life had so many buds on a peony, which is one of my favourite flowers. I can't even remember which variety it is, so that's exciting as well.
Things look different in a different setting. This single red tulip:
was stunning in the shade of the old garden.
I bought this clematis the other day: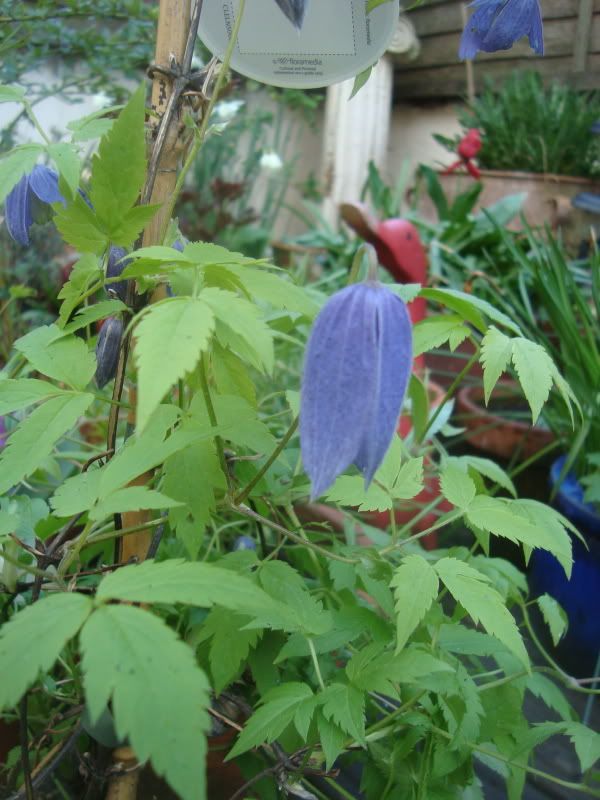 falling in love with its graceful nodding flowers, and now I'm going to have to rearrange all the pots, to be able to sit next to it. It just gets lost at the moment. In about four years, if I'm still here, all the fences will have vanished under a mass of different ivies, interspersed with flowering climbers, making it all lovely. There will be at least one seat from which all you can see is plants and sky. Betcha.
And here's a couple of pics that S took the other day, when we did our cross-country expedition. Me having a restorative herbal cigarette:
which turned out not to be the ideal preparation for downhill wheelchair chasing: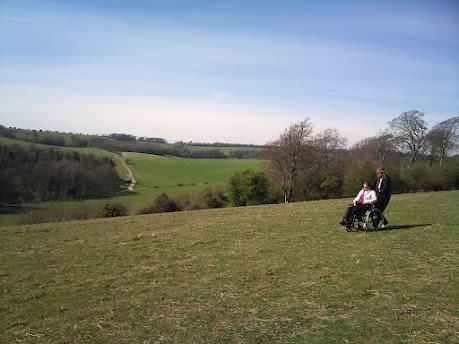 but here we are, safe and sound.
I loved the first book of The Hunger Games - it was just the right thing at the right time. A female protagonist up against bloody everything, fighting for her family and her life. It gave me the impetus to get off my fat arse and take ED to the MS centre, which is so much better than her local branch that it could make you weep (if you were the weeping kind, which I, clearly, am not and never have been). Not only the drop-in day, but all the creative classes, like stained glass...
9:02 p.m. - 10.04.12

-----------------------------------------------------------------------------------------