annanotbob2's Diaryland Diary
-----------------------------------------------------------------------------------------
Wednesday
First, thank you so much for the helpful comments on yesterday's post. I got in a sudden panic about being caught up in a scam, but there's nothing I have to buy, so I'm not, although my expectations have simmered down regarding reversal of her MS. We're going for it for a while, for a few months if we/she can manage it, just significantly upping the amount and variety of fruit, veg and fish, which as you pointed out, can do no harm. ED is particularly slack about fruit and veg, but has had two days of it now and loved it.
She had a session of acupuncture today, her first ever (home visit, D is double darling plus), which was also cool. Afterwards we went to the beach, where she walked quite a bit, using the chair for balance: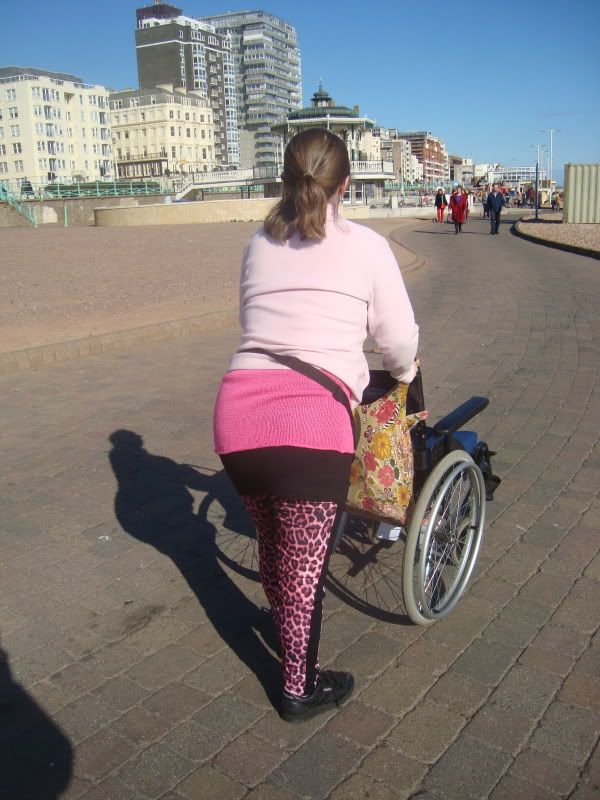 and hauled herself up the ramp back to road level, hanging on to the railings, which was brilliant. This was the first time we've made it to the beach and back, just the two of us. When we got back I was knackered so made her do the washing up, which pleased her even more. A good day.
On Friday one of my old school friends is playing in a pub/art house so we're planning on going. I haven't been to anything like that for ages.
Here's Bob:
1:08 a.m. - 05.04.12

-----------------------------------------------------------------------------------------