annanotbob2's Diaryland Diary
-----------------------------------------------------------------------------------------
Blah blah medical blah
I've moved the furniture round so I can sit at my pc and half watch shite telly while I write, but now the mouse isn't working. Mega sigh. I'm back on the sofa with the laptop, which isn't even a laptop so much as one of those other, smaller jobbies whose name escapes me right now.
Last night I watched the latest UK Shameless and tonight it's the US version. I think where Threlfall has it over Macy is in his ability to be truly unlikable. English Frank is an alcoholic, feckless, selfish cunt who can't even be shamed into doing the decent thing unless it's to his advantage, whereas American Frank follows people with his eyes when they're speaking and just about hangs onto some sense of reformability.
I'm listening to the radio now. Just emailed asking them to play some Alabama 3 (he was asking for suggestions). I've written in twice recently late at night, responding to tracks played and had my emails read out within minutes both times, which is kind of weird.
So. Today has been the same as other days. I've spent many hours this evening trying to come up with an alternate metaphor to replace roller-coaster, with no success. It hasn't been from high to low so much as moderate to fucking rock bottom. Bloke had been telling a mutual old mate about my medical and said mate emailed me a copy of the criteria by which points are awarded. The questions are those on the form, starting with capacity to learn new things, such as setting an alarm clock.
Well.
When I first saw that question I thought I can set an alarm clock, but it did take me far too long to realise the heating here was broken and I haven't been able to even get started on the MP3 player I was given at Christmas. Then today I had a ghastly shock when I remembered the clock ED gave me for Christmas last year. It's electronic and has all sorts of razzamatazz going on, but when I unplugged it to use the socket for something else I couldn't get the fucking thing going again. YD did it, in the most patronising fashion, so when I had to unplug it again I tried really bloody hard to make it go but had to give up. Well, that alone gives me enough points for benefits, AND I DON'T WANT ENOUGH POINTS. Well, I do, but I want to scrape through, not be way over the criteria, as if I'm clearly not capable of work. Ach, it's all too hard. I still haven't looked at the rest of it.
I just did, just now. There's a question about plans changing suddenly. Ah well, I inadvertently demonstrated my ability to cope with that yesterday when the guy phoned and cancelled the appointment. I was quite composed within the hour, which seems pretty good to me.
Full moon tonight - just been out for a moon bathe.
Pictures: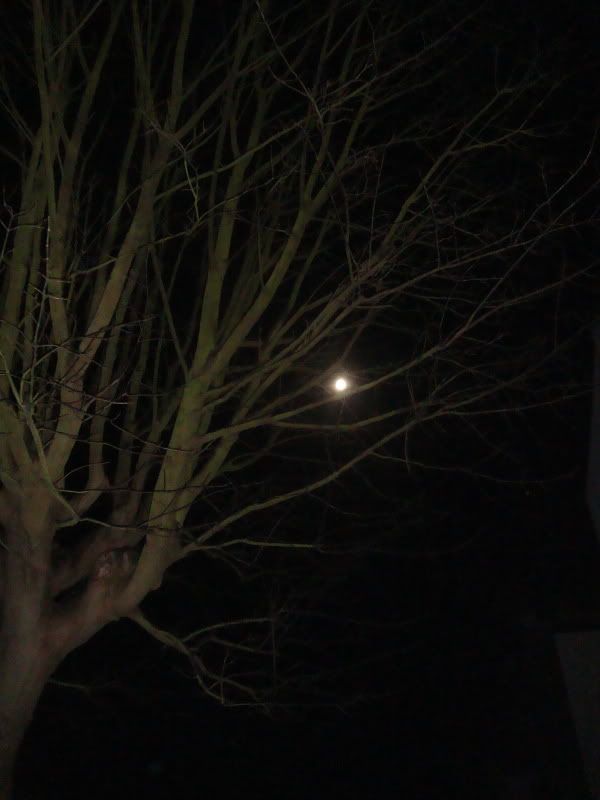 Lovely moon.
Grey sea: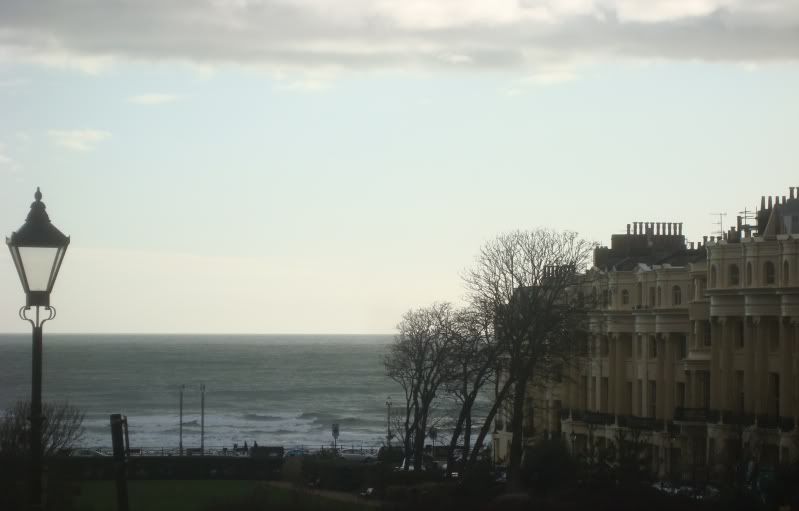 Tranquillisers not doing much for painting skills: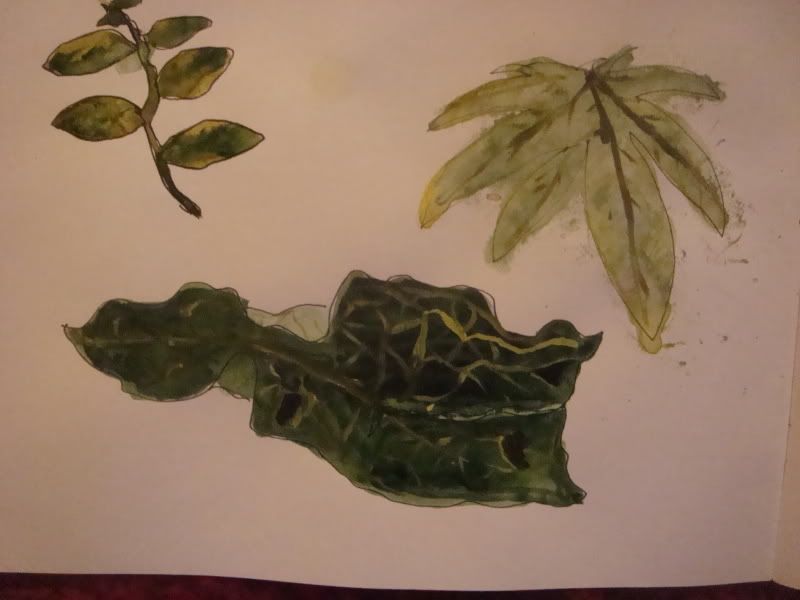 Irises out, mini-daffs on their way: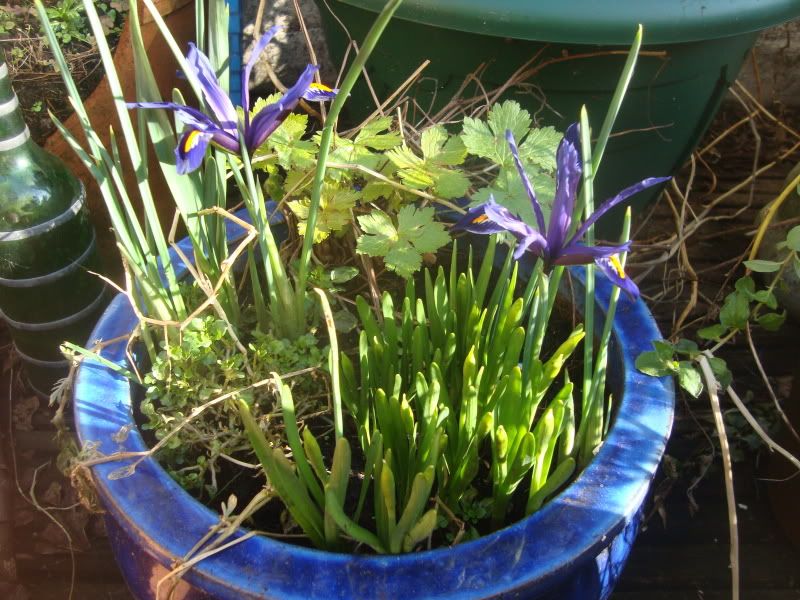 Bob being scared after the fire spat hot bits at her, but not sussing she's still within range: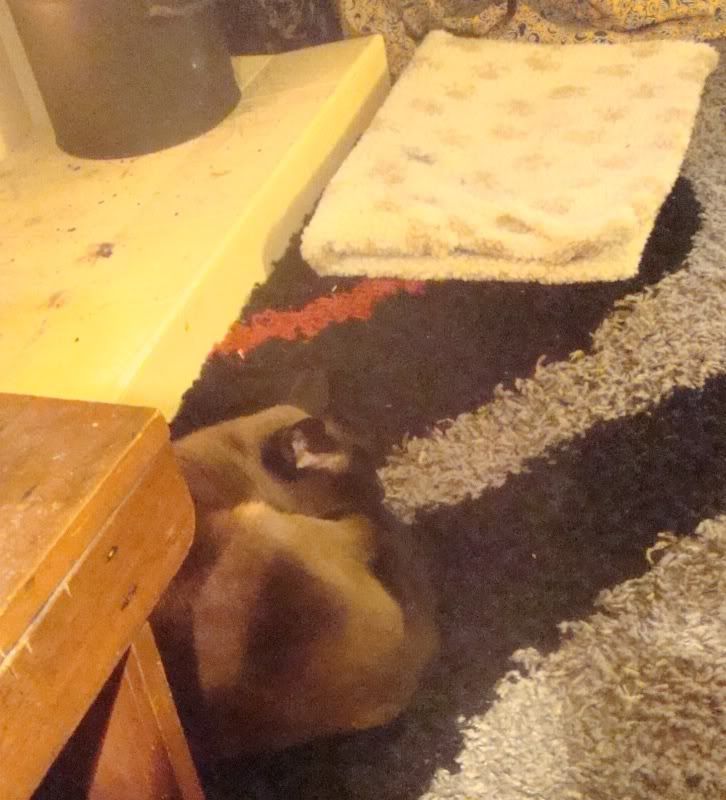 Laters xx
11:56 p.m. - 08.03.12

-----------------------------------------------------------------------------------------