annanotbob2's Diaryland Diary
-----------------------------------------------------------------------------------------
Reasons to be Cheerful:
1. Fire: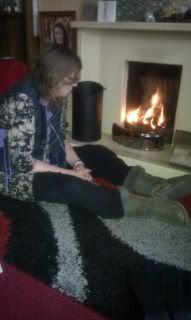 2. Drop-in yoga on Wednesday to address (amongst other things) my dreadful posture.
3. Fire again, for getting the cat (the poor abandoned cat), to settle down and shut the fuck up: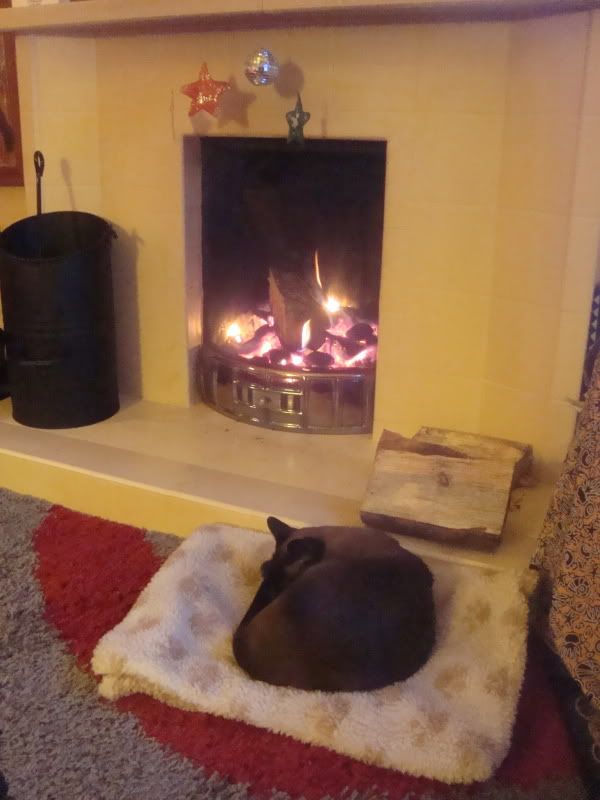 4. The lamp I bought in 1kea has finally given the room enough light to feel like being indoors. I had no idea how space consumed light. My one desk-lamp-on-a-pole was plenty for the little front room at my last place, but I've had to add more and more and more until at last the separate pools of light have joined together.
5. Daughter's 'brain fog' may be caused by depression - Jeez, you know things are tough when that's a reason to be cheerful, but it is because it gives a bit of hope.
6. Her and grandson are coming here for half term, with the bloody wheelchair but without the even bloodier son-in-law.
7. Art class starts again on Tuesday.
8. I remembered I could have dinner delivered just before I broke down and wept at the thought of going to the shop for some food.
9. The psych said my emotional state is entirely appropriate and handed my care back to my GP. Woo hoo - after five years I am out of the mental health service. I kind of hoped he wouldn't, as it would make keeping benefits easier, but it would have made me feel low as well. I feel I should still be allowed not to work for a bit as I've been fucking crushed by the fickle finger of fate to the point that I'm almost zombified, but hey, I'm not a nutter any more.
10. I can choose to stay in bed all day tomorrow if I want.
There, that's ten things, and it only took me an hour to think of them.
Love and hugs, dear peeps. xx
11:26 p.m. - 13.01.12

-----------------------------------------------------------------------------------------