annanotbob2's Diaryland Diary
-----------------------------------------------------------------------------------------
Oh yeah
Cognitive dissonance. That's what it is. (I remember manfromvenus asking me for an example of cognitive dissonance when I was learning about it in the group - don't think he's still here, but I'll wave at him anyway, just in case. **cooee! waving madly**
Anyway. It's when your thoughts and emotions are out of synch. Like if, for example, you were moving house and had been following your to-do list in an exemplary fashion, ticking things off, writing appointments and times on a big calendar, weren't actually going to have to pack anything at all (apart from drugs and BOB*), yet still felt overwhelmed to the point of immobility for over 50% of your waking hours. That's cognitive dissonance (I think - I'm doubting myself over everything)
I can't say I'd recommend it. Understanding comes with the added benefit of a new loop to cycle endlessly round - I know I'm not actually overwhelmed with tasks (in fact I have nothing to do till Thursday), so I feel stupid for feeling so, then have to talk myself out of feeling like a twat (cos I'm not), which I can do, but it comes round so bloody often that it wears me out.
But today has been good. I went to sleep last night with one wish - that I wouldn't be in a vulnerable state when Son was here. I don't mind him knowing that I'm struggling but I don't want him to witness it in action, not when he's got exams coming up, not after all we've been through to get him on this course. Where he is the single student not from public school (which illogically means private, but more expensive than the ones that are just called private). He says when they get a bit too smug for his liking he tells them to think what their parents paid for their education. "And yet, look at us, old 3tonians and state school yob, in exactly the same place," which apparently shuts them up. I didn't like to remind him of the contacts they'd made and how these would ease their path - it was his birthday and he knows.
I texted him 'Happy Birthday' when I woke up and he was already on the train, leaving me just enough time to have a proper, steadying breakfast before straightening the house up at a leisurely pace, putting some washing on and actually getting dressed.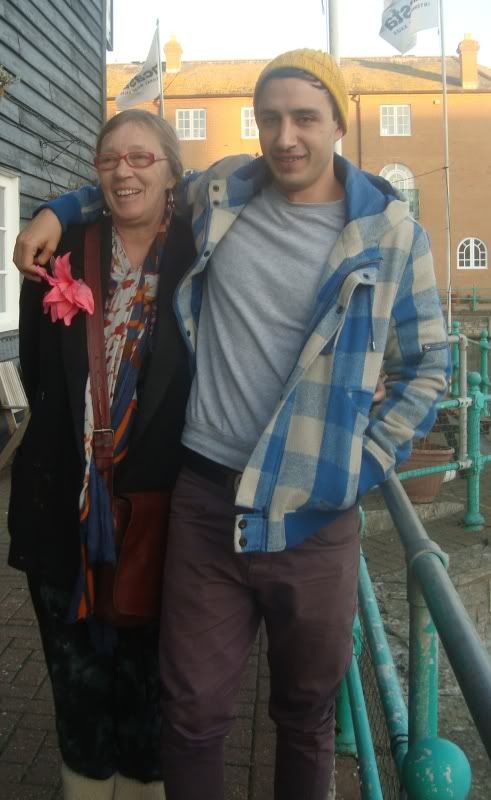 We did chat, lunch, walk, more chat and off he went. All good.
Got a list for tomorrow morning.
That's all.
Sleep well, dear hearts xx
*Battery Operated Boyfriend
7:51 p.m. - 27.11.11

-----------------------------------------------------------------------------------------