annanotbob2's Diaryland Diary
-----------------------------------------------------------------------------------------
Of pubs and things
I made it out the other side of Tuesday just about in one piece. I had a beer with my dinner (shop pie, jacket potato, green beans and broccoli), and two puddings. I've had a cursory look through the to let ads and have indeed missed a perfect place. It was the ground floor of a big Victorian semi, with a fair size garden, not exactly where I want, at a great rent. Never mind - one just like it in the right place will pop along soon.
J came round early (which is why I didn't get online this morning), but that was my choice - I'm not putting it on her. She lives five minutes away and was here while her BF of three years removed the last of his belongings from her house after she'd chucked him out. I'm quite relieved it's over for many reasons: he's a boozer and their life together soon revolved around getting very pissed and getting into huge emotional scenes - I've had years of that from my kids, and before them I was doing it myself so I'm not interested in going there again. I never quite trusted him either, but she was happy with him for more than two years, and he didn't do anything too terrible in the end really. Just continually put booze first and when J stopped drinking and happened across 'Women Who Love Too Much' it all unravelled pretty fast. But while it's a relief, there's sadness too. That book, by the way, WWLTM, is far more useful than its crappy title would suggest. All right, here's the link
By the time I fetched up at art class I was quite agitated. The focus was on perspective, which I need to get right for my project of making a decent picture based on this area. Sadly my brain was fizzing too much for me to concentrate on the opening spiel - I just wanted to be on my own in a pool of silence. I tried to latch on to the principles, about eye lines and vanishing points, which are puzzlingly difficult to get right. Everyone else had remembered to bring a ruler, but I didn't and managed to get some bits of my painting right and others completely wrong. I copied a photo I took yesterday of one of the many pubs on corners in this area - there are five withion two minutes walk of my house. I want to have one in my big pic:
sometimes I feel embarrassed even as I post pictures of my painting, especially when the subject is there too, but hey ho, I can't see you sniggering and I don't care anyway: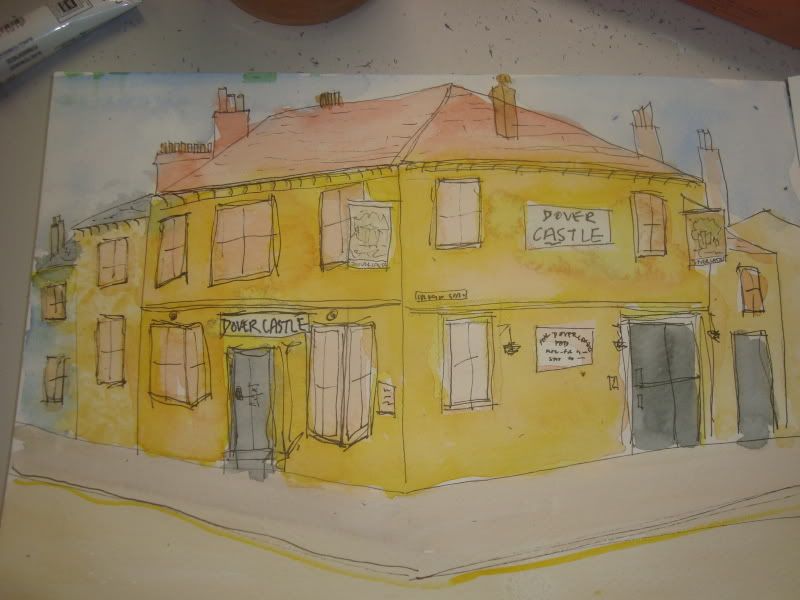 As usual impatience was my downfall. I couldn't manage to mix the 'magnolia' shade of the pub's walls, gave up and sloshed on a quite nasty shade of yellow. Then the teacher came round and told me magnolia is made from burnt umber and a touch of scarlet. Scarlet? I'd never have thought of that. Although I'm not particularly pleased with the picture, I loved the doing of it, the getting lost in it, forgetting everything else, my mind settling down into a better place than when I arrived.
Had a cup of miso tea round at K's after class. Also very grounding, seeing him again, my fellow recoverer. Then bought, cooked and ate dinner and have done very little since.
Grateful for: my art class; pies; somewhere to write; friends; a warm cosy home on a chilly evening
Sweet dreams xx
9:13 p.m. - 08.11.11

-----------------------------------------------------------------------------------------