annanotbob2's Diaryland Diary
-----------------------------------------------------------------------------------------
Plan B
Well, sometimes you have to hit the bottom before you can pick yourself back up. Sometimes you need to stop coping and sit in the reality of it, for more than a quick moment, for long enough to have a look at it, see what it's made of. It can be categorised as either a) can't be changed (like ED having MS); b) old news (I'm knackered); or c) something I can change. I feel as if I had to go through feeling desperate again before I couldn't bear it and knew that there must be something I can do to move me out of this nastiness, and set about discovering what it is.
Food has become a real issue. I do all the cooking up at ED's when I'm there and it's the kind of cooking I can do in my sleep - nutritious, tasty food for four greedy people. Then I come home and it's just me and I'm really knackered and can't be arsed to cook proper food so I buy fish cakes or pies and just have them with potatoes and one veg. But that's a shite way to eat - where's the pleasure? Although it's two years now since YD left home, I still haven't settled into cooking a decent range of meals for one person. The only cookbook I can find is Delia's 'One is Fun' - a title so patronising it makes me want to stick two fingers up at her prissy bloody face and tell her to fuck right off. And it's decades old - all sorts of ingredients are available now (creme fraiche), but I think I might have to give it a go. It's the old self care thing, isn't it? Making a nice meal with love, for someone you care about to enjoy and be nourished by. Not just any old shite to fill you up. I need some new recipes though - I'm stuck on baked fish, chicken thighs and minced beef. So I will buy myself that poxy book - it will give me lots of info about cooking times for smaller portions, if nothing else.
The other thing is moving. I've been approaching it from the 'I can't be arsed' angle, but that's no longer the worst aspect. Knowing that I've got to move has taken all the pleasure out of being here. There's no point exhausting myself doing the garden and even pottering about just makes me sad as I won't be here to see the benefit and my experience so far is that the next occupier takes a chain-saw to it all, so it's not worth it. Moving is always a bit hideous, but being somewhere new is always exciting. So. My task for this week is to go round the estate agents who take clients on benefits (having been provided with a list by the benefits office) and persuade them that I will be a good tenant, one worth calling straight away, to save the cost of advertising. I shall write out an advert for me, listing my requirements and hope for the best.
That's my plan and I feel better for having one. Here I am, swimming crossly: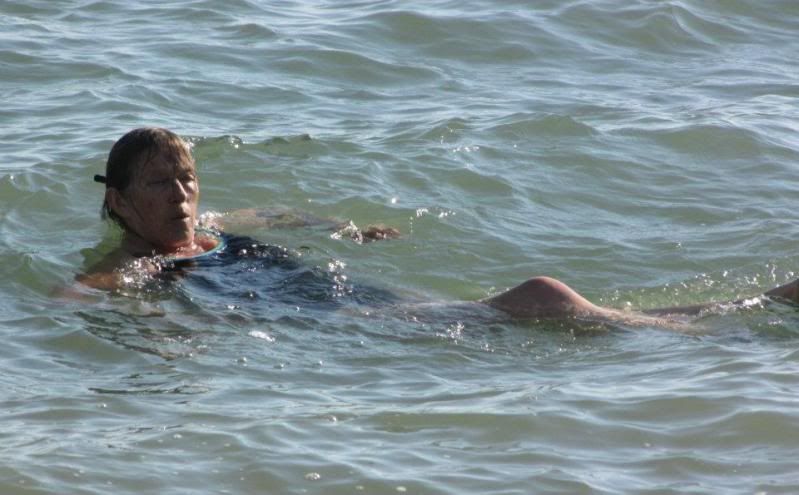 Sweet dreams xx
1:02 a.m. - 02.10.11

-----------------------------------------------------------------------------------------