annanotbob2's Diaryland Diary
-----------------------------------------------------------------------------------------
Our house, in the middle of our street
I'm writing in the ad breaks between Celebrity Big Brother, which I have succumbed to yet again.
H0using B3nefit interview today, which got me in a right state of agitation. I'm entitled to have a proportion of my rent paid again, due to still being unemployed, and having bolted through that inheritance at an astounding rate. But the whole housing situation does my head in as there doesn't appear to be a solution I can bear, yet I can't go on doing nothing forever or I might indeed find myself old, skint and living in a shit-hole - my biggest fear. OK, my second biggest fear, the first being all the effort/stress/decision-making/risk involved in moving from here to somewhere else. Sigh.
I'm going to have to do one room at a time, chucking out everything that is neither beautiful nor useful, whittling stuff down. Then grit my teeth and go for it...
----------------------------------------
Well, I must have drifted off there for lo, it is now 1.54 am.
After all the mental trauma, the interview was great. The woman I saw was such a sweetie, full of advice, reassurance and chat to the extent that we had a hug at the end of it, which seemed entirely appropriate at the time, if not so much now. I must say, I've always been lucky with the people I run up against, but we'll see how this goes. As a mark of faith in my continuing financial well-being I bought three shirts for the price of two in Gap, and that's now the end of my time as a big spender. Bills, food, baccy, weed and books. Mas nada.
It's been blowing up a storm today. I've been hoping to get a few more swims in before the night temperature starts bringing the sea temp down, but this is not inviting: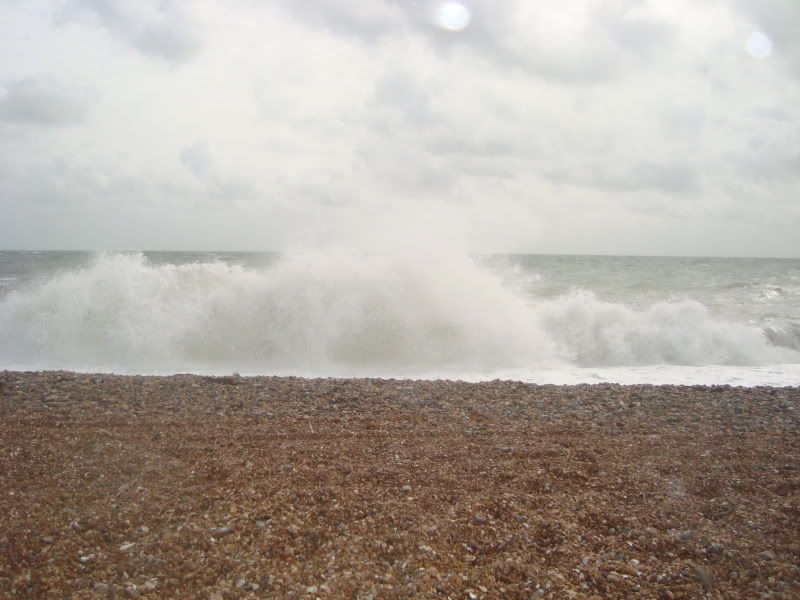 Grateful for: Living high on a hill when the rain is fierce; return of optimism after a morning of dread; peace and quiet (apart from the wind whistling and groaning and the cat snoring); nothing I HAVE to do tomorrow; friends both near and far
Sleep well
xxx
10:10 p.m. - 2011-09-05

-----------------------------------------------------------------------------------------